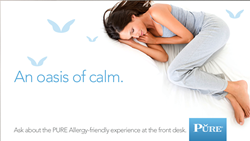 The WCG conference is an excellent opportunity for hotel professionals to learn about the latest trends in hospitality
Arcadia, California (PRWEB) March 14, 2014
PURE Solutions, an allergy travel company that provides hypoallergenic hotel rooms, will participate in Windsor Capital Group's 2014 business conference. The annual event brings together company leaders in hospitality for two days of speakers, networking opportunities and a tradeshow.
The conference will take place March 10-12 at the Embassy Suites in Arcadia, California. PURE Solutions representatives will participate in the vendor tradeshow on Tuesday, March 11th from 12:30 to 2:00 pm.
PURE Solutions has designed and installed allergy-friendly PURE Rooms at more than 300 hotels nationwide. PURE Rooms are treated according to a patented 7-step process that kills and protects against 98-100% of viruses, bacteria and other harmful irritants, making them more comfortable for people with asthma and allergies.
PURE delegates to the WCG conference include Haley Payne, director of hotel relations, and Jeff Laster, vice president of business development.
"The WCG conference is an excellent opportunity for hotel professionals to learn about the latest trends in hospitality," Laster said. "Health and wellness are rapidly growing segments of the travel industry, and we are eager to showcase how PURE Rooms can help owners and managers make their hotels more accommodating for people with allergies."
Haley Payne also expressed her enthusiasm for the annual WCG conference, describing it as an excellent opportunity to raise awareness about allergy travel.
"With asthma and allergy diagnoses on the rise, it is important for hotel professionals to recognize how crucial allergy-friendly travel is for so many people," said Payne. "We believe that offering a hypoallergenic room-type can go a long way in improving quality of life for allergy-sufferers when they travel."
About PURE Solutions
PURE Solutions utilizes state-of-the-art purification technology to create allergy-friendly environments that are 98-100%-free of viruses, bacteria and other harmful airborne particles. Each PURE Room is comprehensively treated to remove allergens and irritants from all hard surfaces, fabrics and air. To learn more about the PURE process and to book a room at one of their 300 partnering hotels nationwide, visit pureroom.com.
For more information about installing PURE Rooms at your hotel, please contact Vice President of Business Development Jeff Laster at jlaster(at)pureroom(dot)com.