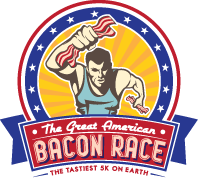 Let's be honest, pretty much EVERYONE LOVES BACON
Miami, Florida (PRWEB) March 14, 2014
Let's be honest, pretty much everyone loves bacon, and some people like to run. With that in mind, Fearless Events, Inc. is proud to present their brand new, bacon lovers, 5k fun run, featuring a bacon-drenched after party. The inaugural Great American Bacon Race: The Tastiest 5k on Earth" will take place on Saturday, April 5th, 2014, at Oleta River State Park in Miami, and supports anti-bullying along the way.
The G.A.B.R is a 5k, bacon-themed fun run for 1000+ like-minded people of all ages. There's even a 1 mile "Bacon Dash" for the kids! There will be random "bacon stations" throughout the course handing out bacony treats (and of course water) to the runners, then it's on to the "Bacon Bash" after-party with DJ/music, bacon-themed food trucks, local vendors/restaurants showcasing their bacon dishes, taste testing, and even bacon ice cream for the kids (both big and small). Plumrose USA have come onboard as "bacon sponsor" and are supplying hundreds of pounds of high quality bacon for everyone to enjoy.
About Fearless Events, Inc.
Fearless Events is a South Florida based event company that creates and promotes running events. Anything from large 8+ mile mud/obstacle runs to small 5k "fun" runs. All events support national 501c charity, National Voices of Equality, Education and Enlightenment: http://www.NVEEE.org.
To find out more about this hamtastic event and the upcoming national tour contact:
Garfield Griffiths
Fearless Events of FLA, Inc.
Phone: 954-649-8665
Garfield(at)AmericanBaconRace(dot)com
http://www.AmericanBaconRace.com
https://www.facebook.com/baconrace