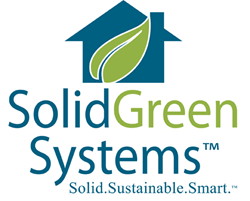 We are excited to expand our work with Solid Green Systems to deliver a unique building envelope using EPS foam that is highly energy efficient.
San Antonio, TX (PRWEB) March 13, 2014
Solid Green Systems (SGS), a leader in delivering smart building solutions, and Houston Foam Plastics (HFP), an innovative company providing foam plastics solutions, announced today a partnership to continue delivering high performance buildings throughout Texas and expansion plans for Oklahoma, Louisiana, and Arkansas. Both companies are currently attending the EPS Industry Alliance Expo in San Antonio, TX, March 12-14th.
"We are excited to expand our work with Solid Green Systems to deliver a unique building envelope using EPS foam that is highly energy efficient," said Scott Jones, vice president of construction projects for Houston Foam Plastics and member of Solid Green Systems' Advisory Board. "As a full service design and manufacturing firm, we have worked with Solid Green Systems to meet their manufacturing and delivery requirements for an innovative building solution for single family homes, multi-family projects and a custom estate home. We look forward to continuing to expand our relationship as Solid Green Systems continues to grow."
Benefits of Partnership
By utilizing EPS foam with light-gauge steel, SGS delivers a high performance building envelope that has excellent thermal resistance with minimal deterioration of R-values over time that:

Provides the fastest and lowest-cost path to a net-zero building
Competes with wood framing in cost, value, and design flexibility
Utilizes standard framing methods producing straight walls and roofs
Realizes a 40%-60% reduction in HVAC sizing depending on occupancy
Provides excellent indoor air quality
Provides no food source and is therefore pest/termite resistant
On average saves 50% in heating and cooling costs
"We have built a strong relationship with Houston Foam Plastics and are excited to expand our relationship with them as our business continues to grow," said David Carolan, founder and CEO of Solid Green Systems. "By outsourcing our manufacturing and distribution through Houston Foam Plastics' facilities, we are able to lower our capital and logistics costs while being closer to our customers' jobsites. We are also able to reduce shipping costs and ensure that every delivery and installation produces the highest quality building with a low carbon footprint. We look forward to replicating this distributed manufacturing model in other markets, allowing us to be a more efficient, scalable company."
Demonstrated Experience
Solid Green Systems and Houston Foam Plastics have collaborated on several projects including:

Single family homes in Central Texas that that were constructed in 45 days with the help of federal and state funds.
Multi-family apartment complexes for oil field housing that have electricity bills 50-70% lower than the average cost in the region for other similar projects.
A 7000+ sq. ft. custom estate home that received a HERS rating of 15 with expected annual energy bills of $663.
About Solid Green Systems
Solid Green Systems manufactures a patented residential and commercial exterior wall and roof system made of EPS foam and light-gauge steel. The SGS system is faster to build, comparable in cost to most traditional building methods, and saves more than 50% on energy bills. For more information, please visit http://www.solidgreensystems.com.
About Houston Foam Plastics
Houston Foam Plastics (HFP) is a supplier to the construction and protective packaging markets. Capabilities include EPS block mold production, engineering design, fabrication, and plastics recycling. HFP was founded in 1970 is privately owned with more than 300 employees operating in three Texas manufacturing locations - Houston, San Antonio, and El Paso. To learn more, visit http://www.houstonfoam.com.