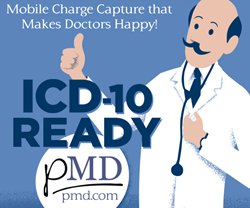 Our goal is to make charge capture with ICD-10 a non-issue.
San Francisco, CA (PRWEB) March 13, 2014
pMD, the leader in mobile charge capture and physician communication, announced further developments to its ICD-10 solution that will allow all new customers to be ICD-10 compliant from their first day of implementation. Additionally, all existing pMD customers will benefit from enhanced ICD-10 functionality to make the transition to the new coding system seamless.
pMD, whose mobile charge capture app allows physicians to enter their medical billing charges and patient handoff notes into their smartphones, transitions each of its new customers to ICD-10 as part of the setup process. pMD does this by starting with the custom ICD-9 code lists that medical groups are already familiar with and then uses its automated ICD-10 Converter for the code conversions. The new ICD-10 codes are integrated into a custom ICD-9 + ICD-10 diagnosis list for each group to begin using immediately to capture hospital charges. As a result, healthcare providers can continue to search for the new codes by their usual naming conventions, while also incorporating the additional specificity that ICD-10 requires.
St. Vincent's Neonatology in Bridgeport, Conn. was on a paper billing system before implementing pMD's mobile charge capture and transitioning to ICD-10. Dr. Shruti Gupta, a provider with the group, found the transition to ICD-10 with pMD to be easy and natural. "To find our diagnosis codes, I just search by the word name, so it doesn't matter that there are the additional ICD-10 codes," Dr. Gupta said. "It's very easy to find the codes on our mobile devices with pMD."
Current pMD customers utilize the ICD-10 Converter to transition to ICD-10 and preserve their existing, practice-specific codes. Once a code list is converted to ICD-10, the new list then works as an integrated and non-disruptive educational tool. Providers can learn to code in ICD-10 with more specificity and without interrupting their regular routine because the new codes are incorporated into their already familiar code list. The resulting hybrid codes contain both the ICD-10 code and its ICD-9 equivalent, so billers can continue to bill with the ICD-9 codes until October 1.
"Healthcare practices that implement pMD's mobile charge capture will benefit enormously from the increased efficiency and time saved from this conversion," pMD CEO Philippe d'Offay said. "During a year when providers are being overwhelmed with so many industry changes, our goal is to make charge capture with ICD-10 a non-issue."
About pMD
pMD's mobile charge capture software supports physicians across multiple specialties by allowing them to enter their patient charges into Android, iPhone, iPad, iPad Mini, and iPod Touch devices at the point of patient care. The patient visit is then visible to other doctors within the practice and can be billed immediately. Doctors using charge capture are increasing their ROI in a time where Medicare cuts, ICD-10, PQRS, and other costs are significantly impacting profitability. pMD increases efficiency and security in a practice through automation and secure text messaging, and it provides free interfaces with most major electronic medical records, hospital information, and medical billing systems, including athenaCollector by athenahealth, Allscripts Pro PM, Allscripts Tiger, Cerner, Epic, GE Centricity (formerly Millbrook and IDX), MEDITECH, NextGen, and Vitera Intergy (Sage). For more information, visit pmd.com or email sales(at)pmd(dot)com.