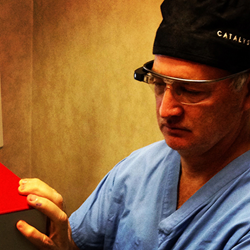 Google Glass provides a way for someone to step into the shoes, or should I say eyes, of an ophthalmologist.
East Hanover, NJ (PRWEB) March 14, 2014
Dr. Cary Silverman of EyeCare 20/20 is no stranger to utilizing innovative technologies. He is always looking to test new methods and ideas to stay ahead of the curve. Dr. Silverman and his EyeCare 20/20 team are one of the few ophthalmologists to offer HD Cataract Surgery using both the Catalys Precision Laser System and LenSx Laser. He was selected as a Google Glass Explorer and was one of the first eye care professionals to own Google Glass. Now Silverman becomes one of the first ophthalmologists to use the technology to offer an inside look of the HD Cataract surgical procedure. He recently uploaded a video on YouTube of himself using Google Glass to perform Femtosecond Cataract Surgery on one of his patients.
"It has some unique features that are really beneficial to medical professionals," said Dr. Silverman. "It can record and store video and take photos, all of which are really useful for the purpose of education. Google Glass provides a way for someone to step into the shoes, or should I say eyes, of an ophthalmologist."
View EyeCare 20/20 using Google Glass in this video.
Dr. Silverman, who is active on EyeCare 20/20's social media channels, came up with the idea to use Google Glass in the operating room to educate his fans and followers. "I wanted to show our fans and followers what it's like in the operating room. Show them what I see and how quick and painless the procedure is. It was great to inform them about the state-of-the-art Femtosecond Cataract Surgery, but now we were able to actually show them the procedure through my eyes," Silverman explained.
Although the possibility of Google Glass becoming an everyday tool in operating rooms won't likely be until the distant future, Dr. Silverman plans to continue to use it for his audience. Google Glass will allow him to educate, ease patient fears, and share his experience up close with the vision community, his fans, and followers. The future is now for Dr. Silverman and the EyeCare 20/20 team, and they invite you to join them on their exciting new journey.
ABOUT:
Located in East Hanover, NJ, EyeCare 20/20 provides ophthalmic care for the entire family whether it's routine vision correction or surgical intervention. Under the direction of Cary Silverman, M.D., Medical Director, the company serves patients from surrounding communities as well as those from other states nationwide.
For more information on EyeCare 20/20, visit: http://www.eyecare2020.com/.