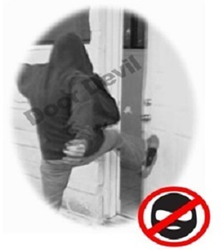 I was dispatched [on a 911 call] to an apartment with a female saying her ex was kicking the door...it did not budge.
Dallas/Fort Worth, TX (PRWEB) March 14, 2014
A simple anti-kick door security device was all that stood between a terrified female and an angry male attempting to kick her door. Her home security preparation may have saved her life.
"I was dispatched [on a 911 call] to an apartment with a female saying her ex was kicking the door. When we arrived the door was still secure and he was unable to make entry. Upon further inspection…it did not budge."
The enraged male was unable to kick-in the door because her apartment's doorway had been fortified with a Door Devil anti-kick device.
The responding Dallas-Fort Worth area Police Officer recounted how the anti-kick door security device prevented her enraged ex from kicking in the door and harming the female who was desperately calling 911 for help. The Officer was so impressed with the product that he was compelled to document his experience for the manufacturer (Door Devil).
Door Devil owner, Nick Fairless, was extremely pleased to receive the letter from the Officer. "To know an idea and product developed in our garage in 2008 has just potentially saved someone's life is an awesome feeling. We've had multiple testimonials where our unit prevented burglaries, but - to our knowledge - this is the first instance where our customer's life was at stake. Our whole team had a great day when we heard the news."
Even the most security-conscious homeowners don't realize less than one-inch of soft wood is all that holds their deadbolt in place. Criminals can destroy this soft wooden doorframe with a single kick. Once destroyed, the deadbolt is useless. That is why kicking-in a door continues to be one of the top methods of entry in the 1.4 Million residential burglaries reported by the FBI.
"Doorframe reinforcement is not a new concept" noted Nick Fairless "but most solutions found at a big box store would never stop a 250lb man kicking the door and/or are much too complex for the average DIY homeowner to install." "Our vision" Fairless continued "is was a mix of Tonka's toughness with Fisher-Price's simplicity."
Retired Texas Police Officer Doug Byrd recalled the many residential burglaries in his career. "We see the devastation and pain it causes families. We desperately want to provide suggestions on how to prevent this in the future, [but] there were few options."
Unfortunately and statistically, a home that has been burglarized is almost twice as likely to be burglarized again. This is because the criminals are familiar with the home's security measures and know the stolen items will soon be replaced. The new generation of anti-kick kits provide homeowners a simple and affordable method of mitigating this common risk to property and lives.