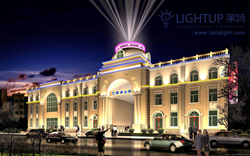 (PRWEB) March 13, 2014
LIGHTUP LED is a well-known LED light company that promises to give its customers more light output for less money. Recently, the company has introduced its new LED wash light collection to its customers.
According to a senior engineer of the company, a LED wall washer lamp belongs to decorative lighting, and it has a high-power LED as light source. The wide range of LED wall washers from LIGHTUP LED are available in single color or RGB color changing options, offering people amazing lighting options for commercial and domestic applications. Built-in DMX decoding is available with these LED wall washer lamps.
"Customers can save huge by reducing the maintenance costs of constantly replacing bulbs. Our LED wall washer lights come with a lifespan up to 50,000 hours. Energy saving, high luminous efficiency, color-rich, and long life are the major points that customers choose the LED lights from LIGHTUP LED. The new LED wall washer lamps are no exception," the CEO of the company says.
In addition, the company has recently updated its technical blog, and people can find how to install LED wash wall lights there. If customers have any problem about LED lights, the engineers and designers of LIGHTUP LED are just standing by for them.
About LIGHTUP LED
With over 8 years' experience in the LED industry, LIGHTUP LED (Zhongshan Guzhen LIGHTUP International Technology Co., Ltd.) is a specialized manufacturer and retailer of high-end LED lights. The company is located in Guzhen, the "Silicon Valley" of China's LED industry. They focus on the R&D and manufacturing all types of LED lights. Great product quality, premium customer service and competitive pricing are the reasons for many customers worldwide to choose LIGHTUP LED.
For more details about LED wall washer lights from LIGHTUP LED, please visit: http://www.laitalight.com/Products/led-wall-washer.html.