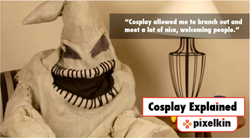 It's amazing to see what gamers can do with a little imagination.
Seattle, Washington (PRWEB) March 13, 2014
Pixelkin, a company with a mission to bring families together through gaming, shares some interesting perspectives on cosplay, an engaging part of the gaming culture.
Cosplay (derived from "costume play") involves dressing up like a fictional character. It's a hobby enjoyed by people all over the world. While its origins are centered in anime, people also cosplay from TV shows, movies and videogames…everything!
"Cosplay is a great hobby for people of all ages and in particular it's a wonderful way to spend time with your kids," said Simone de Rochefort, Pixelkin gaming expert. "It's a hobby which requires a lot of imagination and working with your kids to make a costume is time well spent. You may see a whole new side of them come to life. In fact, a number of cosplayers have expressed that making and wearing costumes that emulate their favorite characters allows them to truly be themselves. To express a side of themselves that they may be afraid to show in other situations."
If you've shared a town with a geek convention, you might have noticed the multitude of colorful costumes that cosplayers wear. With Emerald City Comicon, the premier pop culture convention in the Pacific Northwest just around the corner (March 28-30) there's a great opportunity to pull a few ideas together and give cosplay a try.
"Many people perceive those fans who do cosplay as a bit on the obsessive side," said Pixelkin Founder Linda Breneman. "If I were to characterize their obsession it would be centered around their absolute love of creating. The act of selecting a character, developing a costume and hand-crafting the finished product leads to lots of new skills such as painting, sewing, woodworking and even metal work."
A video offering interesting insights into the ritual and skills learned through the act of cosplay can be found here.
Added Breneman: "We've seen people take cosplay to a range of intensity levels, from the funny and playful to the intricate and immersive. There are a host of excellent how-to videos that can teach you everything from basic sewing to making your first set of wings. The only limitation is your imagination."
About Pixelkin
Pixelkin (pixelkin.org) is a company with a mission to bring families together though gaming. The Pixelkin website features news and editorials, reviews, and educational resources on games and the gaming industry. Pixelkin offers one of the only sites on the Web today with information specifically tailored for families looking for a meaningful way to connect through gaming. Founded in 2013 and headquartered in Seattle, WA, Pixelkin is helping today's families grow through gaming. More information is available at: http://www.pixelkin.org