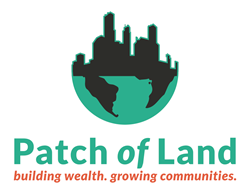 Scalability in real estate peer lending will be possible thanks to data-driven technology and credit models.
Los Angeles, CA (PRWEB) July 31, 2014
Patch of Land, the Peer-to-Real-Estate ("P2RE") lending marketplace for short-term real estate debt, has been selected to present at FinovateFall 2014 on September 23-24 in New York City. Finovate conferences showcase cutting-edge financial technology from companies ranging from up-and-coming startups to established industry leaders.
The two-day conference will allow information sharing in the financial technology sector, as well as facilitate networking opportunities to make game-changing connections. There will be 70 companies presenting at FinovateFall 2014. Some areas that have been covered at past Finovate events are: debit rewards, alternative payments, person-to-person (P2P) lending, new marketing tools, security solutions, big data, mobile apps, social investing, personal financial management, youth banking, credit, and next-generation online banking platforms.
"We are honored to be selected to present at Finovate," said Brian Fritton, Co-founder and CTO of Patch of Land. "Our goal is to solve the problem of inefficient, fragmented real estate privated lending by using data-driven processes to create transparency and to efficiently underwriting projects for borrowers."
Patch of Land will be showcasing a real-time system that pulls data from multiple sources including major credit reporting agencies. This disparate collection of data will be scientifically conglomerated into proprietary information models and risk analysis summaries. The information along with trained process will allow us to pre-approve a wide variety of loan requests and extend automatic terms to existing borrowers for new projects. This information will be available to our underwriters along with an internally-developed scoring system, allowing efficient decision-making on lending. With over $5 million in real estate loans issued in 9 months, the company is focused on continuing to build its technology in order to scale loan origination volume significantly over the coming months to match investor demand.
"We are excited to welcome Patch of Land to their first Finovate conference," said Eric Mattson, CEO of Finovate. "Real estate crowdfunding is gaining traction very quickly in alternative financing."
About Patch of Land
Patch of Land is a privately owned company based in Los Angeles, CA providing accredited and institutional investors easier access to short-term, asset collateralized, fixed income securities through its P2RE "Peer-to-Real-Estate" lending marketplace. Patch of Land is the online marketplace solution to inefficient, slow, fragmented and obscure short-term real estate lending, providing a fast, efficient, transparent and consistent service to real estate borrowers and professionals who may not qualify for traditional financing. Patch of Land is partnered with WealthForge, a FINRA registered broker-dealer, and does not make recommendations or offer investment, financial, legal or tax advice.
Learn more at: http://www.patchofland.com.
The content of this press release is provided for educational and informational purposes only and for no other purpose.