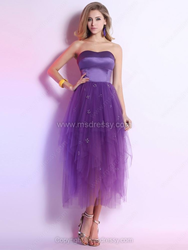 (PRWEB) March 13, 2014
All this chilly weather is getting us excited for spring. It's also a very exciting time as prom dress season is just around the corner. Lovely 2014 prom dresses are available today! Msdressy added some beautiful silk, cotton, and lace dresses to its "prom dresses 2014" collection, inspired by vintage floral prints and silhouettes.
"We're excited to bring these new prom dresses designs to market," says Msdressy founder Damon S, "We pride ourselves in setting high quality dress standards and being budget-friendly in our approach to the US market. We worked with innovative dress designers and experienced dress inspectors on new designer prom dresses 2014 collection."
"Every morning, we have a variety of 2014 prom dresses online," says Msdressy marketing manager May, "Pair one of these prom dresses with a high heel, you will be ready for your special day! Msdressy has a great team to provide the trendiest dresses, the best prices possible, excellent and quick customer care. So shopping here would be a pleasant experience."
About Msdressy
Msdressy.com is the online destination for wedding, events and everyday dresses. It offers a variation of short to long dresses, mini dresses, maxi dresses, and wedding dresses. The prices vary from $200-$100 with many deals ongoing right now ranging from between $80-$50. And Msdressy focuses on producing high quality, affordable, dresses with exceptional fashion and trendy looks. With keen attention to customer service, Msdressy is committed to building brand loyalty and long lasting relationships with customers.
Be sure to check out the new prom collection here: http://www.msdressy.com/prom-dresses-2014-c-3/.
Don't forget to like Msdressy Facebook Page.