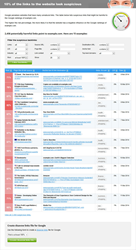 Google penalizes websites that have the wrong backlinks.Competitors can point these links to your site to harm your business.
Staudt, Germany (PRWEB) March 19, 2014
SEOprofiler.com has announced the release of their new link disinfection tool. Google's ranking algorithm relies heavily on the links that point to a website. For that reason, many businesses owners tried to improve the rankings of their websites by creating artificial backlinks.
Google's new ranking algorithm can detect these unnatural links and websites with these links will be removed from Google's result pages. The new link disinfection tool helps businesses to find and remove these unnatural links.

Negative SEO: competitors can hurt your rankings *
Competitors can hurt the rankings of a website by creating unnatural backlinks that point to the website of a competitor. The competitor website gets penalized although it is not responsible for the unnatural links. To lift the penalty, Google requires that business owners remove as many of the unnatural backlinks as possible. Sometimes, this is not possible because the owners of the linking websites do not cooperate. For these links, Google offers the 'disavow links' tool.
Using Google's disavow links tool can be very risky. If businesses report the wrong backlinks, their Google rankings will be damaged even more.
How does the new link disinfection tool help? *
The link disinfection tool of SEOprofiler.com helps businesses to remove harmful links:
It automatically analyzes the links that point to a website and it filters the bad links.
Each link gets a risk score. The higher the risk, the more likely it is that a link is harmful.
The link disinfection tool automatically creates a 'disavow links' file that can be sent to Google.
Checking the link structure of a website has become very important after Google's recent algorithm updates. Website owner should check the backlinks of their websites regularly to avoid bad rankings on Google. Further information about the link disinfection tool is available on SEOprofiler.com.
*About SEOprofiler.com*
SEOprofiler.com is an Axandra website. Founded in 1997, Axandra is a market leader in website promotion and search engine optimization tools. Axandra focuses on white-hat search engine optimization methods that are approved by search engines. Axandra tools only use spam-free SEO techniques that are beneficial to businesses, search engines and searchers.