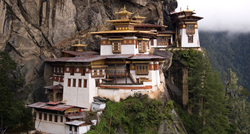 We're proud to be offering the first private jet holiday across Asia staying in spectacular Amanresorts in four countries.
New York, NY (PRWEB) March 14, 2014
Amanresorts and Remote Lands are delighted to announce an extraordinary 18-day private jet journey across Asia including China, Bhutan, India and Sri Lanka. Eighteen guests will fly on a private jet and stay at eight Amanresorts in Beijing, Hangzhou, Thimpu, Paro, Rajasthan, Ranthambore, Galle and Tangalle from October 4 to 21, 2014.
The uber-luxe hotels on the itinerary include Aman at Summer Palace, Amanfayun, Amankora Thimpu, Amankora Paro, Amanbagh, Aman-i-Kas, Amangalla and Amanwella. Guests will fly between destinations on a magnificent private jet with palatial interiors. As an extra touch, each guest will receive a leather travel bag provided by exclusive travel outfitters Ghurka.
Lavish dinners and exceptional experiences will provided in each destination, including meeting remarkable local people, attending special art events and visiting off-limits areas of the Forbidden City that are not normally available to the public.
Guests will see fascinating sights such as the Great Wall of China, Hangzhou's West Lake, Bhutan's Tiger's Nest monastery, the Pink City of Jaipur, Ranthambore National Park, and Galle's Ancient Fort.
"We're proud to be offering the first private jet holiday across Asia staying in spectacular Amanresorts in four countries," says Catherine Heald, Remote Lands' co-founder and CEO. "We are delighted to be working with Amanresorts on this incredible journey and being able to offer such a unique product to our highly discerning clients."
The journey takes place from October 4 to 21, 2014 and costs US$49,950 per person, with places limited to a maximum of 18 guests. For more information, visit the Remote Lands website or email Amanprivatejet(at)remotelands(dot)com.
About Remote Lands, Inc.
Remote Lands, Inc. creates highly personalized, ultra-luxe holidays in Asia, optionally by private jet or yacht. Based in New York and Bangkok, they specialize in extraordinary experiences that are difficult to arrange and require privileged access to important people and exclusive events, drawing upon their relationships with remarkable people around Asia. They distinguish themselves with their unparalleled service, creative itineraries and extreme attention to detail.
Remote Lands has been featured in The New York Times, The Wall Street Journal, Departures, Travel + Leisure, Condé Nast Traveler, Town & Country, the BBC, Fox Business News, Financial Times, National Geographic Traveler, W, Newsweek, Forbes, BusinessWeek and more.