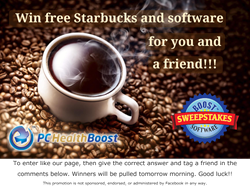 Wow! Thanks so much for picking me and my best friend Carey to win.
Boston, MA (PRWEB) March 13, 2014
Boost Software's PC HealthBoost™ started 2014 off with a bang. By hosting a giveaway on Thursdays, PC HealthBoost gives their fans multiple chances to win prizes. Aside from their usual monthly sweepstakes, the PC HealthBoost Thirsty Thursday Giveaways are weekly.
Every Thursday morning, PC HealthBoost posts a fun, PC-related question for their Facebook Fanpage viewers to answer for a chance to win various prizes. The comments are counted as entries into the giveaway. The commenters have the option to tag a friend, when answering the questions, to give them a chance to win as well.
The prizes consist of Starbucks Gift Cards and copies of the PC HealthBoost software for the winner and tagged friend. The winners are chosen at random, from all of the eligible entries. The giveaway has gotten increasingly popular with every week that it runs. To ensure eligibility, the full Official Rules for the giveaway are listed on the PC HealthBoost Blog.
In March, PC HealthBoost plans to switch up the prizes on the Thursday closest to St. Patty's Day. They will be giving away a Beer Brewing Kit to a random entrant and tagged friend. The prizes will still include the PC HealthBoost software, along with the Beer Brewing Kit. It will mix up the weekly giveaway a bit.
The most appealing part of this giveaway is that participants can return weekly for more chances to win. The winners are chosen the following morning. The eligible entrants' names are all entered into a random third party drawing site. The winner is then selected, along with their tagged friend. Prizes are awarded in a timely manner, and usually accessible to the winners by Friday evening.
Last week's winner Holly was quoted saying, "Wow! Thanks so much for picking me and my best friend Carey to win." Both winners were very excited to be chosen, and to receive their prizes. This giveaway gives entrants a chance to win a prize, as well as pay it forward to a friend, family member, or co-worker.
If you are interested in participating in the PC HealthBoost Thirsty Thursday Giveaway, or any of the PC HealthBoost Promotions, check out their Facebook Fan Page. You can also stay on top of their latest promotions and giveaways by following them on Twitter, Google+, or even youtube. PC HealthBoost also actively updates their Blog with the latest on the software, and their social media endeavors.