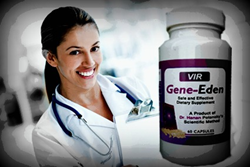 We recommend that anyone infected with both viruses should talk to their doctor about Gene-Eden-VIR.- Mike Evans, polyDNA
Rochester, NY (PRWEB) March 19, 2014
The herpes simplex virus 1 (HSV-1) and the varicella zoster virus (VZV/Shingles) can infect humans at the same time. This is called a co-infection. "Both viruses produce vesicular skin lesions with virus infecting epidermal and dermal cells (outer layers) of the skin. Importantly, both viruses establish latent infections in neurons (nerve cells) of somatic sensory ganglia whose axons (the long threadlike part of a nerve cell along which impulses are conducted from the cell body to other cells) infiltrate the areas of skin infection. Furthermore, both VZV and HSV are widespread human pathogens (disease causing organisms), with about 60-90% of the population latently infected by both the viruses by adulthood (1)." polyDNA recommends that individuals concerned about herpes and Shingles talk to their doctors about Gene-Eden-VIR. This natural product was clinically proven to reduce symptoms of herpes virus infections in a study that followed FDA guidelines.
The study found that "both viruses can replicate in the same neuron (1)."
Why is this bad?
If an individual is infected with both viruses, and both viruses reactivate and begin replicating, that individual can experience an outbreak of both herpes and Shingles at the same time. (See Case Reports in Dermatology, from January 2014) (2).
Symptoms of an HSV-1 (oral herpes) outbreak include: "Itching of the lips or skin around mouth, burning near the lips or mouth area, tingling near the lips or mouth area. Before blisters appear, you may have: sore throat, fever, swollen glands, painful swallowing. Blisters or a rash may form on your: gums, lips, mouth, and throat. You may have: red blisters that break open and leak, small blisters filled with clear yellowish fluid, several smaller blisters may grow together into a large blister. As the blister heals, it gets yellow and crusty, eventually turning into pink skin." (See MedLine Plus from October 14, 2012) (3).
Symptoms of a Shingles outbreak include: "Pain, burning, numbness or tingling, a red rash that begins a few days after the pain, fluid-filled blisters that break open and crust over (and) itching. Some people also experience: fever and chills, general achiness, headache, (and) fatigue. Pain is usually the first symptom of shingles." (See MayoClinic.org, from September 1, 2011) (4).
"We recommend that anyone infected with both viruses should talk to their doctor about Gene-Eden-VIR. The great benefit of this natural antiviral is that it is effective against both viruses during latency. In other words, an infected individual can target both latent viruses with a single treatment." – Mike Evans, polyDNA
A study published on August 12, 2013 in the peer reviewed, medical journal Pharmacology & Pharmacy, in a special edition on Advances in Antiviral Drugs, showed that Gene-Eden-VIR reduced viral symptoms. Study authors wrote that, "Individuals …reported a safe decrease in their symptoms following treatment with Gene-Eden-VIR (5)." The study authors also wrote that, "We observed a statistically significant decrease in the severity, duration, and frequency of symptoms (5)."
To learn more about Gene-Eden-VIR, visit http://gene-eden-kill-virus.com/. All orders of Gene-Eden-VIR are completely confidential, and no information is shared or sold to any third party. Privacy is assured.
References:
(1) Varicella zoster virus and herpes simplex virus type 1 can infect and replicate in the same neurons whether co- or superinfected. Published on February 26, 2014.
http://www.ncbi.nlm.nih.gov/pubmed/24574392
(2) Concurrent Reactivation of Herpes Simplex and Varicella Zoster Viruses Confirmed by the Loop-Mediated Isothermal Amplification Assay. Published in January 2014.
http://www.karger.com/Article/Abstract/358005
(3) Medline Plus - Herpes - Oral. Updated on October 14, 2012.
http://www.nlm.nih.gov/medlineplus/ency/article/000606.htm
(4) Mayo Clinic - Diseases and Conditions - Shingles. From September 01, 2011.
http://www.mayoclinic.org/diseases-conditions/shingles/basics/symptoms/con-20019574
(5) Gene-Eden-VIR Is Antiviral: Results of a Post Marketing Clinical Study. Published on August 12, 2013.
http://gene-eden-kill-virus.com/PP_Gene-Eden-VIR-is-Antiviral.pdf
polyDNA is a biotechnology company that develops dietary supplements using the unique scientific method developed by Dr. Hanan Polansky, which is based on Computer Intuition.
In addition to his unique scientific method, Dr. Polansky published the highly acclaimed scientific discovery, called Microcompetition with Foreign DNA. The discovery explains how foreign DNA fragments, and specifically, DNA of latent viruses, cause most major diseases.
polyDNA developed Gene-Eden-VIR, an antiviral natural remedy that helps the immune system kill latent viruses.