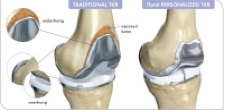 "Everyone is different, but the majority of patients are experiencing quicker recovery, less blood loss, less swelling, and, less pain than traditional knee replacements."
Morrisville, Vermont (PRWEB) March 15, 2014
Mansfield Orthopaedics is pleased to announce that Bryan Huber, MD is the first surgeon in Vermont to offer a new knee implant that is custom-designed for each patient. The implant is designed to treat patients with damage to all three compartments of the knee.
"Because it is individually designed to conform precisely to the patient's unique anatomy, patients are finding that it feels more like their natural knee," said Dr. Huber. "Everyone is different, but the majority of patients are experiencing quicker recovery, less blood loss, less swelling, and, less pain than traditional knee replacements."
The minimally invasive knee replacement surgery procedure starts with a CT Scan of the patient's knee that is converted into a 3D representation of their knee. This virtual model is used to create an individualized implant, designed to mimic the natural shape of the patient's femur and tibia. The unique shape of the knee affects how it moves when bending and flexing. The implant's personalized fit and restoration of anatomic alignment results in a knee that feels more like the patient's natural knee. It takes about seven weeks for each implant, called the ConforMIS iTotal CR©, to be created. Precise placement of the implant is made using a new surgical technique.
Dr. Huber explains that there are a number of treatment options available for end stage knee arthritis. "We work with each patient to make sure they understand all of their options; including the benefits and the risks of each, so that they make an informed decision."
Dr. Huber is Head of Orthopaedic Surgery and Medical Director of Rehabilitation Services at Copley Hospital. Dr. Huber received his Bachelor of Science in Chemistry from Bucknell University in Pennsylvania. Subsequently, he spent one year at the Hospital for Special Surgery in NYC conducting orthopaedic research on bone growth factors. In 1992, he received his medical degree from the University of Vermont and then completed his post-graduate residency in Orthopaedic Surgery at Fletcher Allen Health Care. Prior to joining Copley in 2001, he served as staff orthopedic surgeon at the Naval Hospital in Rota, Spain. Board certified through the American Academy of Orthopaedic Surgery, Dr. Huber has served as team physician for the United States Ski and Snowboard Association since 2003. He is an avid outdoorsman and sports enthusiast.
Mansfield Orthopaedics is the leading orthopedic practice in north central Vermont with orthopaedic surgeons Bryan Huber, MD; Brian Aros, MD; John Macy, MD; Joseph McLaughlin, MD; and Saul Trevino, MD. Services provided include Joint Replacement; Arthritis Care; Arthroscopic Surgery; Hand and Shoulder Surgery; Foot and Ankle Care; Sports Medicine; and Fracture and Trauma Care. The practice has clinics in Waterbury, Vermont and Morrisville, Vermont. Mansfield Orthopaedics is a practice of Copley Hospital. For more information visit http://www.mansfieldorthopaedics.com.