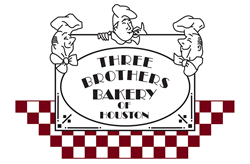 "Our Pi Day promotion is a small way for us to show our followers, and our customers, our appreciation for their continued business and support." - Robert Jucker
Houston, TX (PRWEB) March 13, 2014
In honor of Pi Day on March 14th, Three Brothers Bakery is giving away a different pie every hour on the 14-minute mark to a loyal customer and Twitter follower. By following the bakery on Twitter, customers can retweet and promote this sweet contest across other social media platforms for a chance to win one of the bakery's award-winning pies.
To signify of the value of Pi, 3.14, the contest will officially begin tomorrow, Friday, March 14, at 7:30 a.m. The first winner will be chosen at 8:14 a.m. and will receive a scrumptious apple pie. The contest will continue in this way until 3:14 p.m., with a new winner chosen every hour. Each of these signature, award-winning pies will be given away on the 14 minute mark: pecan, cherry, deep-dish chocolate pecan, pumpkin, chocolate pecan and deep-dish pecan. The pies can be shipped anywhere in the United States, so Three Brothers Bakery is encouraging its Twitter followers across the nation to retweet for a chance to win.
A total of 7 pies will be given away, and at 3:14 p.m., the eighth and final pie will be given away. This winner, however, must live in the Houston-metro area, as he or she will be treated with the decadent 11-inch, 23.5-pound Pumpecapple Piecake. As seen on Food Network, this dessert creation features three delicious layers of the bakery's irresistible cakes and award-winning pies. First, a pumpkin pie baked in a pumpkin spice cake, then a pecan pie baked in chocolate cake and last, but not least, an apple pie baked in a spice cake, all topped off with cream cheese icing and crunchy pecan pieces.
For those who are not Twitter-savvy or do not wish to participate in the promotion, but still want to celebrate Pi Day, Three Brothers Bakery will be offering discounted pie slices to customers at each of its three locations for $3.14.
"We love engaging with our fans and think this is a creative, fun way to interact with our Twitter followers," says Bobby Jucker, bakery co-owner and fifth generation baker. "Our Pi Day promotion is a small way for us to show our followers, and our customers, our appreciation for their continued business and support."
For more information about this exciting Pi Day giveaway, Three Brothers Bakery or any of the bakery's sweet treats, please contact Allison Huseman at 713-225-0880 or allison(at)integratepr(dot)com.
About Three Brothers Bakery
The traditions of Three Brothers Bakery began in Chrzanow, Poland circa 1825, and were preserved despite the family's concentration camp imprisonment during the Holocaust. Their miraculous liberation, and subsequent move to Houston, brought Eastern European scratch baking traditions to 4036 S. Braeswood Blvd and 12393 Kingsride Lane, where the owners are now proud to call themselves "memory makers who just happen to be bakers." Perfecting the process for almost 200 years, each day the fifth generation bakers produce mostly dairy-free breads and pastries, cookies, a full line of specialty dessert cakes and pies, as well as custom birthday, special occasion, wedding and groom's cakes using only the highest quality ingredients.
The Three Brothers Bakery pecan pie was named "the best mail order pecan pie America has to offer" by Country Living magazine, and most recently, bakery owner, Bobby Jucker competed in the popular 'Food Network Challenge' and has been seen on Food Network's Outrageous Food. Three Brothers won "1st Place Cupcake 2012" from Retail Bakers of America as well as "Best Mail-Order Pies 2012" from Bon Appetit. The bakery also won Modern Baking's "2013 Retail Bakery of the Year" and was part of The Knot's "2010-2013 Best of Weddings" picks. Three Brothers Bakery is a certified Woman-Owned Business through the Women's Business Enterprise National Council, and a State of Texas Historically Underutilized Business.
Follow Three Brothers Bakery on Facebook and Twitter for Houston area news, information and events.