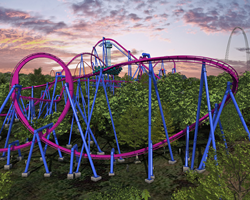 Mason, OH (PRWEB) March 13, 2014
New and expanded businesses, restaurants and attractions will welcome tourists for the 2014 travel season in Warren County.
"The 2014 travel season is gearing up, and we're excited to welcome both new and expanded attractions to Warren County," said Phillip S. Smith, President & CEO at the Warren County Convention & Visitors Bureau (WCCVB). "With these new attractions, Warren County is expanding both family fun and grownup getaway opportunities, and we're looking forward to a terrific year in 2014."
Miami Valley Gaming and Racing is Warren County's new gaming and racing attraction. The 180,000-square-foot facility contains 1,600 gaming machines, four restaurants, a 5/8ths mile harness-racing track, and dining options including a steakhouse, a buffet, a quick-service eatery and a coffee shop. The Grandstand for viewing the racing is more than 14,000 square feet and accommodates nearly 1,000 people.
Set for an April 2014 debut, Banshee is the newest attraction at Kings Island and the world's longest inverted roller coaster. Banshee takes riders through 4,124 feet of track and seven stomach-churning inversions at up to 68 mph on a two-minute-40-second ride.
Lazer Kraze has a new and improved facility. The new multi-level professionally themed laser tag arena offers light-weight equipment, and multiple game formats. The new facility also includes an indoor trampoline park, a huge arcade, and private party rooms. The new facility is located at 7082 Columbia Road in Mason, just off I-71 near Kings Island.
Valley Vineyards Winery and Brewery in Morrow, Ohio is expanding. The winery will open a garden area at the front of the property with seating for 200. Valley Vineyard's in-house brewery, Cellar Dwellers, will be canning four varieties of their craft beers in time for the annual Wine and Beer Festival in June. The award-winning winery was recently featured as one of 13 American wineries invited to pour at the "Celebration of the 80th Anniversary of the 21st Amendment—The Repeal of Prohibition" at the Smithsonian National Museum of American History. This family owned and operated vineyard has been in business for more than 40 years and three generations.
Two new rides will open this year at The Beach waterpark. The first, a two-person zipline, will feature a 600-foot drop over the wave pool. The second is a more than 400-foot long, four-lane mat racer ride where riders will float headfirst on a foam rubber mat with handles through twists and turns. This is the second season at The Beach for new owners, Adventure Holdings LLC, based in Jacksonville, Fla.
About the Warren County Convention & Visitors Bureau:
Warren County is Ohio's Largest Playground! With easy access from Interstates 71 and 75, visitors to Warren County can enjoy more activities within a 30-mile radius than anywhere else in Ohio.
The Warren County Convention & Visitors Bureau is a professional destination marketing organization committed to economic growth by increasing overnight and year-round visitors.
Tourism is the leading industry in Warren County. The 7.8 million yearly visitors drive an economic impact of $993 million and 10,657 tourism-related jobs.
For additional information, visit http://www.ohioslargestplayground.com or call 800-433-1072.