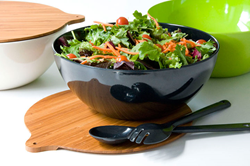 "People want to be Eco-Friendly," said Virginia P'an, CEO of Yumi EcoSolutions, Inc. "We create the products people use everyday, but built by Mother Nature."
Norwalk, CT (PRWEB) March 13, 2014
Yumi EcoSolutions, the Eco-Friendly Products Company introduces Yumi Nature+™ & Yumi Earth+™ kitchen products made of bamboo. These products are environmentally safe, while delightfully engaging. Go green with Yumi's kitchen basics for the chef or baker that are Mother Nature endorsed.
The new stylish and contemporary Yumi Nature+™ & Yumi Earth+™ products are made from 100 percent all natural bamboo fibers and are offered in festive colors. All products are melamine free, petroleum free and dishwasher safe.
The Yumi Nature+™ bowl set features stacking bowls of different sizes which can be used for preparation or serving. The ribbed batter bowls with handle are ideal for batters and mixers, due to the high side walls which prevent splattering for easy pouring. The stylish three-piece bowl set is perfect for food preparation, serving and presentation and great for either indoor or outdoor use.
Also offered are salad, pasta and dessert bowls that are sure to decorate the dinner table with contemporary style. Add Yumi's serving fork and spoon set to complete the eco-friendly set, perfect for feasts with family and friends or eating alone. A lid is available for convenience for those on the go.
For dessert, Yumi recently introduced the "Yumi Party Scoop Au Natural," a colorful ice cream scoop that is clever and handy. The scoop, weighted for balance, creates the perfect-sized scoop for any cone or dish and will not stick even to the coldest surfaces or the hardest ice creams. The scoop can also be used for picking up cake batter and dropping into cupcake trays for the perfect cupcake.
Yumi Earth+™ has also introduced a five-piece mixing bowl set that is beautifully designed to stack perfectly. Yumi Earth+™ understands that kitchen space is limited for the cook, so they have designed the bowl set to be convenient for stacking in small storage spaces.
The five-piece set features a bowl of every size to handle any kind of use in the kitchen. The large bowl can be used for salads or snacks, while smaller bowls can be used for mixing ingredients while cooking or to hold light appetizers. The set is perfect for indoor or outdoor use and is light for easy transporting.
Check out Yumi's line of eco-friendly dinnerware products that offer a green solution for home, office or restaurant/catering use. They are long-lasting products that will hold up for years and make home cooking and serving easier for everyone. Go online to see these products and learn more about them at http://www.yumieco.com.
About the company:
Yumi EcoSolutions is dedicated to creating a healthier and better world now and for future generations by replacing plastic with energy-saving eco-friendly natural products. Yumi EcoSolutions markets and manufactures sustainable products that replace plastics made from fossil fuels. All products are made from renewable and sustainable plant material including Return®; "The Throw Away That Goes Away®" which are disposable and microwave safe. Durable, natural bamboo fiber products include Yumi Nature+™, Yumi Art+™ and Yumi Earth+™ which are melamine and petroleum-free and dishwasher safe. Yumi products are currently available in New York, Connecticut and Massachusetts at markets like Palmers, Village, Tarry Market, Guido's and in selected stores in Maine and California. For more information, visit their website at http://www.yumieco.com.