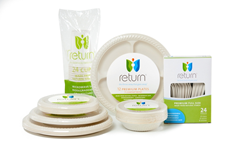 'Our company mission is to create a better planet,' said Virginia P'an, CEO of YumiEcoSolutions, Inc. 'Our products reduce carbon footprints by replacing plastic with eco-friendly products.'
Norwalk, CT (PRWEB) March 13, 2014
Yumi EcoSolutions is now offering a new, innovative and attractive product line called Return+® at mainstream consumer prices. These products will continue to further Yumi's mission of working to create a more environmentally friendly and sustainable world.
Return+® products are made from natural starch and are leak proof and microwave safe. They can go from very cold to very hot easily and in a non-harming way. Each product is food safe and FDA approved. The product quality is outstanding, and has a porcelain like finish. These products are also sturdy and stain resistant.
All the products in this line are biodegradable, compostable, renewable, sustainable and petroleum free. Return+® products are totally green and made with exceptional technology. They leave behind a much smaller carbon footprint than both paper and plastic.
Yumi Return+® offers attractive disposable tableware, including plates, cups, bowls and cutlery. The plates come in the size options of 7 inches, 9 inches and 10 inches. The Return+® line also contains products for the food service, take-out and retail industries. These product offerings include clamshell take out boxes with lids, bowls with lids and cutlery of three different weight packages, from light to heavy. Yumi Return+® also offers these products in either white or black, along with premium utensils, cups and bowls.
Yumi EcoSolutions products are helping to create a healthier and better world. Yumi means "you and me," signifying a communal effort in working towards a greener world. Each product in Yumi's collection supports and furthers this cause. To learn more, visit http://yumieco.com/.
About the company:
Yumi EcoSolutions is dedicated to creating a healthier and better world now and for future generations by replacing plastic with energy-saving eco-friendly natural products. Yumi EcoSolutions markets and manufactures sustainable products that replace plastics made from fossil fuels. All products are made from renewable and sustainable plant material including Return®; "The Throw Away That Goes Away®" which are disposable and microwave safe. Durable, natural bamboo fiber products include Yumi Nature+™, Yumi Art+™ and Yumi Earth+™ which are melamine and petroleum-free and dishwasher safe. Yumi products are currently available in New York, Connecticut and Massachusetts at markets like Palmers, Village, Tarry Market, Guido's and in selected stores in Maine and California. For more information, visit their website at http://www.yumieco.com.