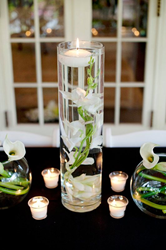 Why pay thousands for wedding flowers, when you can just do it yourself?
Jamestown, NY (PRWEB) March 14, 2014
The average DIY bride wants to throw a memorable event, but doesn't want to spend thousands to make this lasting impression. Afloral.com recently compiled a list of budget friendly DIY wedding centerpieces for 2014 brides.
Mason Jar + Baby's Breath
This wedding centerpiece is perfect for an outdoor wedding, summer wedding, or rustic wedding. It's so easy to put together, and the bride can even swap baby's breath with any stem.
Glass Vase + Submersible Flower + Floating Candle
Submersible centerpieces are still incredibly popular, and rightfully so. They are classy and easy to assemble, all while making a lasting impression.
Lantern + Succulent
This wedding centerpiece would be especially gorgeous at an outdoor evening reception. It's simple, but definitely dramatic, which is why most brides love it.
Pillar Candle + Greenery + Ribbon
This DIY centerpiece is great for wedding decor but can also be used to decorate the home during the holidays. Hot glue greenery around the entire pillar candle, and finish it with ribbon tied around the entire arrangement.
Flower Head + Vase + Water Pearls
This is an incredibly simple and classy look. This look is definitely for the traditional bride. Pick a favorite flower, maybe a rose, peony, or dahlia, pull off the head, and place it in the vase with water pearls on the bottom.
For more wedding flowers, wedding decorations, and wedding design ideas, visit Afloral.com.