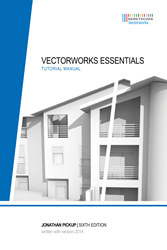 Jonathan Pickup's tutorials have been used by design firms as a training tool for staff and by universities as a resource for students.
Columbia, Md. (PRWEB) March 13, 2014
Nemetschek Vectorworks, Inc. is pleased to announce the publication of a new training guide for users of Vectorworks® software: Vectorworks Essentials Tutorial Manual, Sixth Edition.
This tutorial, written by expert Vectorworks trainer Jonathan Pickup, is a must-have workbook for anyone new to Vectorworks software, and it has been updated for the 2014 version of the program. The book includes an introduction to the Vectorworks interface; a section to familiarize readers with tools and commands; an introduction to 3D modeling; tips on organizing information to create models, drawings and reports; and a discussion about using worksheets. Notes and practice exercises throughout the tutorial and on an accompanying DVD provide additional guidance.
"While we offer several different training options, we know some of our customers prefer to learn at their own pace, and our training guides fulfill that need," said Jeremy Powell, director of product marketing at Nemetschek Vectorworks, Inc. "Jonathan Pickup's tutorials have been used by design firms as a training tool for staff and by universities as a resource for students, and we're pleased to offer this updated edition of his Essentials Tutorial as it provides a solid foundation of understanding for those new to the program."
"Vectorworks Essentials is fabulous in many ways," said Jan Latham, a CAD tutor at Waikato Institute of Technology (Wintek) in New Zealand. "I have not taught before … and the manual is working out great as it breaks all the processes down into easy to follow steps. It has jogged my memory on how to do things in other ways and is already organized into a logical progression, so I can work through it chapter by chapter, building on the student's knowledge."
This book is a part of Nemetschek Vectorworks' self-paced training options. For more information and to purchase this tutorial, please visit http://www.vectorworks.net/training/guides.php.
About Nemetschek Vectorworks, Inc.
Nemetschek Vectorworks, Inc. is the developer of Vectorworks software, a line of industry-specific CAD and BIM solutions that allow designers to easily capture, develop and communicate their ideas with accuracy and efficiency. With more than 450,000 users around the world, Vectorworks software is a global leader in 3D design technologies for the AEC, landscape and entertainment industries. Nemetschek Vectorworks was founded in 1985 and has been a part of The Nemetschek Group since its acquisition in 2000. For more information, visit http://www.vectorworks.net.
About Jonathan Pickup
Jonathan Pickup is an architect trained in New Zealand and in the United Kingdom with more than 25 years of experience. He received his Bachelor of Architecture degree from the University of Auckland in New Zealand. He later spent more than eight years in England, where he learned to use several CAD packages, including MiniCad, and began teaching this forerunner of Vectorworks software. Upon returning to New Zealand in 1992, he established Archoncad, a Vectorworks training and consulting company. He has written several Vectorworks training manuals for architects, landscape architects, educators and design students. He also organizes the New Zealand Vectorworks User Group and provides its main direction.
# # #