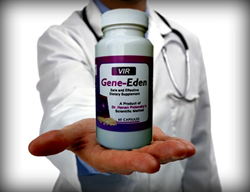 polyDNA recognized that many patients need relief. This need is especially apparent since there are no FDA approved drugs against fatigue. Therefore polyDNA is certain that these patients will welcome Gene-Eden-VIR. - polyDNA
Rochester, NY (PRWEB) March 20, 2014
A majority of people with Rheumatoid Arthritis (RA), a type of chronic arthritis that occurs in joints on both sides of the body, report that fatigue is their most disabling symptom. "Fatigue, the enduring sensation of weakness, lack of energy, tiredness or exhaustion, is described by 40%-80% of patients with rheumatoid arthritis as their most disabling symptom with wide-ranging consequences for quality of life (1)." Fatigue is not merely the feeling of being tired. As study authors pointed out, "Unlike normal tiredness, fatigue is chronic, typically not related to overexertion and poorly relieved by rest (1)."polyDNA recommends that individuals who suffer from Rheumatoid Arthritis take Gene-Eden-VIR to relieve symptoms of physical and mental fatigue.
Fatigue can be made worse by other conditions associated with Rheumatoid Arthritis. Study authors wrote that fatigue "could be worsened by disease-related components, including comorbid conditions (comorbid means the presence of one or more disorders in addition to a primary disease or disorder), disease duration, functional status, disease activity, lifestyle factors, level of activity, and inadequate social support (1)."
Interestingly, many patients with Rheumatoid Arthritis do not talk doctors about their fatigue. "Until recently, the significance of fatigue for patients failed to capture the attention of many clinicians, with patients reporting a lack of support from health professionals who relate mainly to physical problems and disease activity (1)." In fact, many doctors do not even address fatigue as a symptom that needs to be treated. "Unlike pain and disability, fatigue is rarely addressed as a treatment target (1)."
polyDNA recognized that many patients need relief. This need is especially apparent since there are no FDA approved drugs against fatigue. Therefore polyDNA is certain that these patients will welcome Gene-Eden-VIR.
A recent post-marketing clinical study conducted by the Center for the Biology of Chronic Disease (CBCD) found that following treatment with Gene-Eden-VIR, participants reported a decrease in their feelings of general, physical, and mental fatigue.
The abstract of the study was posted on the Center for the Biology of Chronic Disease website on December 28, 2013 ahead of publication (2).
To learn more about Gene-Eden-VIR, and how it reduces fatigue, visit http://gene-eden-kill-virus.com/decreases-fatigue.php. All orders of Gene-Eden-VIR are completely confidential, and no information is shared or sold to any third party. Privacy is assured.
References:
(1) Exercise and fatigue in rheumatoid arthritis. Published in January 2014.
http://www.ncbi.nlm.nih.gov/pubmed/24575509
(2) Gene-Eden-VIR is Effective Against Fatigue: Results of a Post Marketing Clinical Study Conducted According to the FDA Guidelines. Posted on December 28, 2013 ahead of publication.
http://www.cbcd.net/Gene-Eden-VIR-Decreases-Fatigue-Clinical-Study.php
polyDNA is a biotechnology company that develops dietary supplements using the unique scientific method developed by Dr. Hanan Polansky, which is based on Computer Intuition.
In addition to his unique scientific method, Dr. Polansky published the highly acclaimed scientific discovery, called Microcompetition with Foreign DNA. The discovery explains how foreign DNA fragments, and specifically, DNA of latent viruses, cause most major diseases.
polyDNA developed Gene-Eden-VIR, an antiviral natural remedy that helps the immune system kill latent viruses.