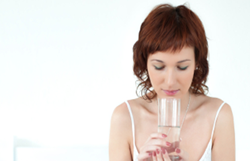 1 in 3 Americans have consumed toxic herbicides, pesticides and/or industrial chemicals in their tap water.
Natick, MA (PRWEB) March 19, 2014
Results of a recently published research report from Purdex, shows that more than 100 million Americans, or 1 in 3 people, have consumed toxic herbicides, pesticides and/or industrial chemicals in their tap water. The report titled, Synthetic Organic Chemicals in the Nation's Tap Water, is based on water sample test results showing detectable levels of Synthetic Organic Chemicals (SOCs) in the nation's public water supply from 2008 – 2012. SOCs are a class of chemicals that are man-made and do not occur naturally in the environment. They can be found in a variety of consumer and commercial products like herbicides and pesticides.
"Of the 30 SOCs that are regulated by the U.S. Environmental Protection Agency (EPA), the two most commonly found in tap water were an agricultural herbicide (atrazine) and an industrial plasticizer (Di(2-ethylhexyl) phthalate); they showed up in half of all the positive water samples," explains Thomas Keegan, MSPH, report author. "Alarmingly, our analysis shows that millions of Americans were drinking, bathing and cooking with water possibly containing one or more cancer-causing SOCs during this time period."
When SOCs are found in drinking water, they generally are not present in high enough concentrations to cause acute health problems such as chemical burns and nausea. Instead, they typically occur in trace amounts, which may accumulate in the body, potentially resulting in chronic diseases like cancer. Half of the regulated SOCs are known, or probable, carcinogens.
The EPA has set health-based standards for each SOC in drinking water. (Bottled water is regulated by similar standards.) When these health-based standards are exceeded, the water supplier is issued a violation. The top five states that issued the most violations during this period were: 1) North Carolina, 2) Florida, 3) California, 4) Texas, and 5) Pennsylvania.
However, based on population size, the top five states with the largest number of consumers who were exposed to SOCs in their water were: 1) Texas, 2) Florida, 3) New York, 4) Illinois and 5) Maryland. In fact, the combined population of consumers exposed to SOCs from just the top three states alone (Texas, Florida and New York) account for more than 33 million people.
All of the water sample data used in this report came from the Purdex National Tap Water Database, which represents a collection of millions of drinking water sample test data from thousands of active, fully licensed community water systems throughout the nation.
Purdex is an independent, drinking water certification and research company that provides empirical and objective information about the quality and safety of drinking water from tap, bottled and filtered water. This free web-based resource establishes an industry standard, providing consumers for the first time with information they can use to evaluate the many choices when it comes to drinking water.