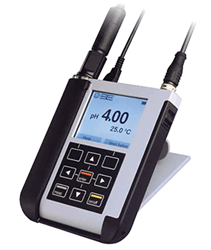 Vernon Hills, IL (PRWEB) March 13, 2014
The only explosion-proof portable pH and conductivity meters are now available from Davis Instruments. The intrinsically safe pH/mV meter and conductivity meter are Zone 0/1 ATEX approved for classified areas. These meters are ideal for monitoring petroleum and chemical manufacturing and also for taking measurements in hazardous settings.
Both the pH meter and the conductivity meter use analog and digital Memosens® electrode technology. The meters feature data logging for 5000 GLP data sets along with the convenience of USB connectivity.
Segmented graphic display on the meters offers high resolution for daylight-readable color. Measurement stability and electrode condition indicators are visible on the display. An integrated panel protects the display and also serves as a meter stand.
For more information on the intrinsically-safe pH/mV meter and conductivity meter, go to Davis.com/20843 or call 800-358-5525.
Davis Instruments has been one of the world's leading sources of test, measurement, control, and calibration instruments since 1912. With expanding capabilities in industrial spheres such as power and utilities, petrochemicals, aerospace and electronics production, field services, and construction, the organization continues to respond to technological demands. Based in Vernon Hills, Illinois, Davis Instruments is dedicated to providing customers with excellent service and product applications expertise. For more information, contact Davis Instruments, 625 East Bunker Court, Vernon Hills, IL 60061. In the U.S.A. or Canada, call 800-358-5525. International customers, call 847-327-2000. Visit us at Davis.com.