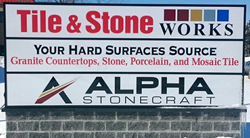 "Sterling Heights is Tile and Stone City"
Sterling Heights, Michigan (PRWEB) March 18, 2014
"Sterling Heights is Tile and Stone City", says owner and general manager of Tile & Stone Works, Matt Scarsella. "We were looking for a larger facility to house our granite fabrication shop and were thrilled when this building became available. The location is perfect for what we do." The building, located at 7700 19 Mile Road, was formerly home to S&A Granite. Tile & Stone Works will join Lifestyle Ceramics, The Tile Shop, Virginia Tile Company, Cercan, Daltile, Perfect Marble and Granite, and Genesee Ceramic Tile who all have facilities within a mile of the Van Dyke and 19 Mile Road intersection.
"We were able to salvage some of the existing infrastructure related to stone fabrication like the water recycling and filtration system as well as some of the manufacturing equipment", said Scarsella, "but we have also made many improvements including a brand new modern tile and stone designer showroom and a separate indoor stone slab showroom and warehouse. Some new fabrication machinery and material handling equipment has also been added that will allow us to effectively and efficiently more than double our production capacity."
The building is divided into four large warehouses which will each be dedicated to a specific purpose. In addition to the fabrication shop, designer showroom, and stone slab showroom, a fourth warehouse section will hold Tile & Stone Works' large inventory of ceramic tile and installation products.
When asked what would set his company apart from the other tile suppliers in the area Scarsella replied, "That's easy, the one-stop-shop-aspect. Tile and stone products are fashion and design choices. Consumers demand variety and choice when it comes to home and office decor. We all have something different but only Tile & Stone Works has a large selection of tile products, stone slabs, and countertop fabrication all under one roof. Tile & Stone Works is equally good at all three disciplines and constantly improving. Purchasing tile and stone can be an intimidating undertaking for most homeowners. Having everything at one location along with professional design service will offer the consumer some efficiency and continuity in the selection process."
The cluster concept of grouping businesses with similar products and services has historically worked well in many industries including automobiles, shopping malls, medical, restaurants, and hospitality. With the parking lots of all of the tile and stone suppliers along the 19 Mile Road corridor mostly full it seems to be working well for the tile and stone industry as well. Scarsella estimates that as much as 40% of the ceramic tile products sold in Michigan is sold within a mile radius of 19 Mile Road and Van Dyke.
When asked why Sterling Heights has become so popular for ceramic tile suppliers Scarsella offers some interesting insight. He explains that, "While ceramic tile is a popular and growing home décor material across the country it is especially popular as a traditional and functional building material among the many ethnic groups that call northern metro Detroit home. The area immediately surrounding and including Sterling Heights is home to a diverse collection of Italian, Polish, Romanian, Chaldean, Arab, Indian, Pakistani, and Albanian ethnic groups. Just look at the many orthodox churches located in Sterling Heights or in nearby communities. I would guess that the per capita consumption of tile and stone in southeast Michigan is higher than it is in many other US markets. The market demand supports the supply."
Sterling Heights, the 4th largest city by population in Michigan and adjacent to two more of the top ten largest cities in Michigan, is already home to some very impressive and world class automotive related manufacturing along the Mound Road corridor and some of the densest retail shopping in the nation along the Hall Road corridor. "Tile and stone industry insiders across the country and even the world are well aware of the market destination the 19 Mile Road 'Tile Mile' has become", adds Scarsella. "I expect more manufacturers and suppliers to position themselves in this area. It's the place to be and to go for all things tile and stone." Indeed, Sterling Heights may soon become renowned as "Tile and Stone City."