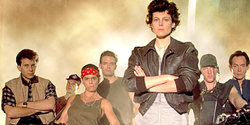 'The Aliens franchise changed the face of Science Fiction and Horror,' states Event Director Kandrix Foong, 'It's an incredible honor to bring such talented people together for this event.'
Calgary, Alberta (PRWEB) March 14, 2014
Calgary Expo, in conjunction with Coolwaters Productions LLC is proud to announce that Sigourney Weaver will be joining fellow Aliens cast-mates for Aliens EXPOsed – a celebration of the iconic 1986 film Aliens. Other cast members appearing at the event include Bill Paxton, Michael Biehn, Paul Reiser, Lance Henriksen, Carrie Henn, Jenette Goldstein, and Mark Roltson.
The event carries on Calgary Expo's tradition of creating unique special events in addition to the convention. Aliens EXPOsed follows in the footsteps of other successful presentations like the complete cast of Star Trek: TNG in 2012, and "Weird Al" Yankovic in 2013.
Aliens EXPOsed will take place on Saturday, April 26, 2014 at the Stampede Corral. Doors will open at 7:00 p.m. and the event will begin at 8:00 p.m. The event will be hosted by Star Trek: Voyager's Garrett Wang and the Calgary Expo's own Emily Expo.
Tickets for Aliens EXPOsed will go on sale via Ticketmaster beginning March 15, at 10:00 a.m. MST. Tickets for the event are sold separately from tickets to Calgary Expo, as the event is not included for Calgary Expo ticket-holders.
The Calgary Comic and Entertainment Expo will be held April 24-27 at the BMO Centre, Stampede Park, in Calgary, Alberta, Canada.
About Calgary Expo
Calgary Comic & Entertainment Expo is a non-profit organization showcasing pop culture including comics, sci-fi, gaming, anime, and horror. Since 2006, the convention has grown to host over 60,000 attendees annually and is Canada's second largest pop culture convention. Calgary Expo April 24 - 27, 2014 at BMO Centre, Stampede Park, in Calgary, AB, Canada. http://www.calgaryexpo.com
2014 Calgary Expo guests that have already been announced include Jim Byrnes (Highlander); Bruce Campbell (Evil Dead); Anthony Daniels (Star Wars); Danny Glover (Lethal Weapon, Predator 2); George Romero (Dawn of the Dead); Felicia Day (The Guild); Giancarlo Esposito (Breaking Bad); Laurie Holden, Emily Kinney and Michael Rooker (The Walking Dead); Kristen Hager, Sam Huntington, Meaghan Rath, and Sam Witwer (Being Human); Katie Cassidy (Arrow, Supernatural); Richard Taylor, Mark Ferguson, Craig Parker, Jed Brophy, Mark Hadlow, Dean O'Gorman, Sean Astin, Billy Boyd, and Manu Bennett (Lord of the Rings and The Hobbit series).
About Coolwaters Productions LLC
Coolwaters Productions LLC is a licensed management and PR company specializing in Pop Culture events, fan events, private parties, and more. Other clients represented at the 2014 Calgary Expo include John Ratzenberger (Cheers) and Adrian Paul (Highlander). http://www.coolwatersprods.com.