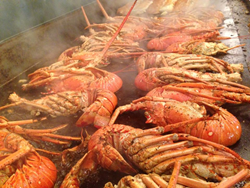 'We have never been more popular,' said Mike Ungaro, Vice President, San Pedro Fish Market. 'According to diner data collected, we draw regular customers from a 100 plus mile radius, it's very humbling.'
San Pedro, CA (PRWEB) March 13, 2014
Starting with a spice mix declared 'magic' by the Food Network, San Pedro Fish Market recently reached the gigantic landmark of 1 million visitors in 12 months for the first time in the 50 year plus history for the restaurant and market rated 5 Stars by over 9,000 Facebook and Yelp followers.
"We have never been more popular," said Mike Ungaro, Vice President, San Pedro Fish Market. "According to diner data collected, we draw regular customers from a 100 plus mile radius, it's very humbling. Knowing that people drive from throughout the five county area to stand in line for our food is the greatest compliment we can receive."
Started in 1957 by two teenage cousins with the backing of one of the boy's fathers, San Pedro Fish Market has steadily grown each year with rare exception. In the last three years, a large bet on branding, marketing, and selling their products through 500 stores in nearly 4 states.
"Over time, it became clear that the more we explained our commitment to providing an opportunity for families to spend an afternoon of fun and great food, the more we grew," explained Ungaro. "It is great to see the investment pay off the way it has. We regularly fill up our 3,000 seats several times a weekend and during the week now as well."
By far, the most popular seafood choices are shrimp and lobster brought in daily from around the globe. The market style lay out of the restaurant means often overlooked seafood choices are also regularly popular.
"On a cloudy February weekday we Facebooked a photo of a dozen oysters and had over 13,000 impressions in ten minutes with hundreds of comments, likes, all positive," said Mike Ungaro. "We pride ourselves on exposing new and interesting seafood, drinks, and food products for our guests. They trust us and because of that, people's lives are a lot more flavorful and fun."
Each meal at San Pedro Fish Market starts with diners picking the seafood they want to have on their tray along with sides in a true operating fish market. Once purchased, the diners can then have everything cooked for free in a preparation they choose. After it is prepared, it is served family style on dining trays with a usual potion size appropriate to serve 4-8 diners easily. Guests have a choice of deck side seating, indoor seating or can even go upstairs for a view of the entire San Pedro Harbor.
"We've invested millions to give the families and friends that come here for three to four hours a true Window on the Water," said Ungaro. "The view and atmosphere are the perfect compliment to the food and drinks."
ABOUT SAN PEDRO FISH MARKET & RESTAURANT
Founded in 1957, San Pedro Fish Market & Restaurant has grown into a top rated destination on the LA waterfront whose seafood, Lonely Planet described by saying, "Seafood feasts don't get any more decadent than at this family-run harbor-view institution." Routinely serving more than 15,000 diners each week, San Pedro Fish Market is also one of the most recognized brands in the frozen food section of premium and mass market supermarkets across the Southwest and Hawaii where consumers can pick from four microwavable versions of our world famous shrimp tray. Just as at the restaurant and market, all ingredients are the freshest available and meant to be prepared and enjoyed directly in the kitchen with your favorite ice cold beverage. For more information, go to our website at http://ow.ly/obvmS.