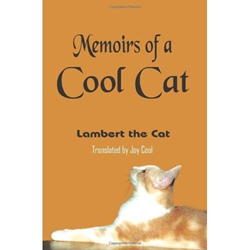 I wrote this book to bring attention to the need for pet adoption and the fun-loving side of cats.
Silver Spring, MD (PRWEB) March 14, 2014
What would your pet say about life if it could talk?
"Memoirs of a Cool Cat" shares the happenings and emotions of a housecat, including his friendships, health, and the strong bond between animal and animal-lover. Sprinkled with photos of the author's cats, the book provides an entertaining and charming inside look at the world of pampered pets.
Inspired by her own cat Lambert, author Joy Cool seeks to share insights on a variety of pet topics, ranging from adoption to nutrition. Using her personal experience as a pet owner and cat-shelter volunteer, Cool highlights the important issue of proper healthcare, including the benefits of raw-feeding.
"I've always been an animal lover," said Cool. "I wrote this book to bring to people's attention not only the fun-loving side of cats, but also the need for pet adoption and healthier pet food options."
For more information, visit bookstore.authorhouse.com.
"Memoirs of a Cool Cat"
By: Joy Cool
Paperback: $11.90
E-Book: $8.95
ISBN: 9781420816051
Available at bookstore.authorhouse.com, amazon.com and barnesandnoble.com.
About the author
Joy Cool is a long time animal and cat lover. She volunteered for 15 years at a local animal shelter where her specialty was socializing feral and abused cats to assist in adoption success. Cool currently lives with her beloved animals in a suburb of Washington D.C. in Maryland.
###