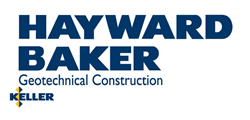 Hanover, Maryland (PRWEB) March 14, 2014
Geotechnical construction contractor Hayward Baker Inc. has been awarded a $41 million contract in connection with the City of Seattle's Elliott Bay seawall repair and replacement project.
The Elliott Bay seawall project involves the repair and replacement of a large section of a seawall stretching along Seattle's downtown riverfront. Constructed between 1911 and 1936, the seawall has deteriorated over time, making it increasingly vulnerable to storm and earthquake damage.
The terms of the contract call for Hayward Baker to construct a grid of approximately 5,700 soilcrete columns at depths of up to 85 feet in order to provide seismic stability and foundation support for a new seawall. To work around existing timber piles, Hayward Baker will employ a process of dynamic planning to survey predrilled holes, identify obstructions, and to revise the grid pattern as the work proceeds.
The initial test program is slated to begin in March 2014, following which the seawall repair and replacement project will be carried out over a period of approximately two years. The project team will work closely with the General Contractor and other trade contractors to minimize disruption and inconvenience during peak tourism periods.
The Seattle downtown waterfront area is a popular destination for tourists and locals alike. Among its attractions is the famed Pike Place Market, a public market overlooking the Elliott Bay waterfront. The market opened in 1907, making it one of the oldest continuously operating public farmers' markets in North America. Pike Place Market also features diverse craft and specialty shops and places to dine, contributing to its popularity as one of Seattle's most important gathering places.
The first Starbucks Coffee store opened in the vicinity in 1971. In addition, the Pike Place Market Historical District lies along the Elliott Bay waterfront.
Commenting on the Elliott Bay seawall project, Justin Atkinson, Chief Executive of Keller, Hayward Baker's parent company, stated, "Hayward Baker has a long track record of completing large specialty grouting projects in challenging environments such as high-density urban centers. In the case of the Elliott Bay waterfront, the need for constructing jet-grouted soilcrete columns around existing timber piles adds more complexity to the project, for which our company is highly suited."
For more information on the Elliott Bay seawall project in downtown Seattle as well as the jet grouting services provided by Hayward Baker, contact Mark Hampton at (630)461-0739 or mrhampton(at)haywardbaker(dot)com.
About Hayward Baker Inc.
Hayward Baker is North America's leader in geotechnical construction. Ranked by Engineering News-Record magazine as the #1 Excavation/Foundation Contractor, Hayward Baker is the industry leader in applying ground modification technologies to site improvement and remedial work, with a 60-year record of experience.
A wide range of technologies are employed in providing foundation support and rehabilitation services, as well as settlement control, structural support, site improvement, soil and slope stabilization, underpinning, excavation shoring, earth retention, seismic/liquefaction mitigation, and ground water control. Every service provided by Hayward Baker is designed to be the most effective, cost-efficient solution, based on a proven track record of performance in the field.
Hayward Baker services are provided through a network of more than 20 company-owned offices and equipment yards across the continent, with recent expansion activities adding new offices in Salt Lake City and Toronto.
Hayward Baker Inc. is part of the Keller Group of companies, a multinational organization providing geotechnical construction services throughout the world. Web site address: http://www.keller.co.uk.