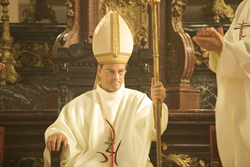 We are thrilled to be partnering with the Maine Jewish Film Festival on this event.
Waterville, Maine (PRWEB) March 13, 2014
The Maine Film Center will host a satellite of the Maine Jewish Film Festival (MJFF) at Railroad Square Cinema on March 22 and 23, 2014. Satellite events will include an opening party, five film screenings, and a visit from filmmaker Monica Haim, who will present her film Awake Zion.
According to Shannon Haines, Executive Director of the Maine Film Center, "We are thrilled to be partnering with the Maine Jewish Film Festival on this event. We have long admired their programming and are grateful for the opportunity to share it with our audience."
The festivities kick off on Saturday, March 22 at 6:30 p.m. with an opening party catered by Barrels Community Market. The party will be followed by an 8:00 p.m. screening of The Jewish Cardinal, a film about the amazing true story of Jean-Marie Lustiger, the son of Polish-Jewish immigrants, who maintained his cultural identity as a Jew even after converting to Catholicism at a young age, and later joining the priesthood.
The film screenings continue on Sunday, March 23 with the documentary An Apartment in Berlin, which follows three young Israelis as they embark on a journey into the past by retracing the life and refurnishing the original apartment of a Jewish family from Berlin once deported by the Nazis.
Additional screenings include My Australia at 3:00 p.m. and Epilogue at 5:30 p.m. My Australia is a narrative film about 10-year-old Tadek and his brother, who are arrested for anti-Semitic gang activities in 1960s Poland only to learn that their mother is a Holocaust survivor. This film will be free for those 18 years of age and younger. Epilogue, also a narrative film, depicts an elderly Israeli couple as they bravely face the disillusionment that comes with old age in this telling portrait of a now-marginalized generation whose hopes, beliefs and ideas for the country they helped build have, over the years, revealed themselves to be mostly pipe dreams.
The festivities will culminate with a 7:30 p.m. screening of Awake Zion, with filmmaker Monica Haim in attendance for an intro and a Q&A following the film. Awake Zion is a documentary that unites Jewish and Jamaican musicians, scholars and historians as they explore shared histories and common beliefs going back to the Old Testament, helping us to recognize the foolishness of prejudice and acknowledge our universal human experience—"a jammin' spirit of oneness."
Tickets for festival screenings are $8 for adults; $6 for students and seniors. Visit http://www.mainefilmcenter.org or http://www.railroadsquarecinema.com for more information.