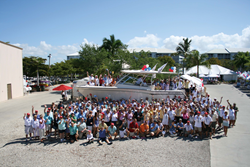 Camaraderie plus lots of idea and information exchanges make Grady Fest a must-cover boating lifestyle story.
Fort Myers Beach, FL (PRWEB) March 14, 2014
For the fourth time over five years, Grady-White boats owners and enthusiasts are gathering to celebrate the recreational boating lifestyle. Organizers are expecting approximately 400 attendees at Fish Tale Marina, Ft. Myers Beach, FL, March 21-23, for Grady Fest IV–the largest crowd in the festival's history. The event is a fun mix of learning, and living The Grady Life.
Grady Fest kicks off that Friday evening with Dock-tails and live music. Saturday begins with a boat parade, followed by sessions ranging from sun safety, destination planning, boat handling, mechanics and maintenance, fishing, electronics, dining aboard and boat customizing ideas. Sunday morning will see the world's largest raft-up ever of Grady-White boats with as many as 100 tied together.
Laughter, stories, songs, dancing, refreshments and camaraderie, plus lots of idea and information exchanges are what make Grady Fest a perfect, must-cover recreational boating lifestyle story.
Contact Gwen Edwards for logistics: gedwards(at)gradywhite(dot)com. For more event details and general registration visit http://www.gradyfest.com.