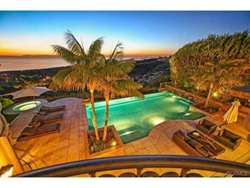 "Our work internationally over the last two decades and our affiliation with Christie's International Real Estate gives us a global network that is critical for buyers and sellers in what is now a global real estate market." -Chris Pollinger
Irvine, CA (PRWEB) March 13, 2014
Newport Coast has long helped define luxury Orange County real estate for the world and First Team Estates - Christie's International is proving that it understands that better than anyone.
In 2013, First Team Estates - Christie's International doubled it's sales volume and increased it's market share by over 70% in the highly coveted $1 million + market in Newport Coast. The company's $48.6 million increase in 2013 sales in exclusive Newport Coast estates was the largest of any of the top 5 competitors within the market and grew an amazing 212% from 2012 -- 8 times faster than the luxury Newport Coast market as a whole.
"Newport Coast cannot be topped for it's immediate access to exquisite beaches, beautiful canyons, and world class amenities, and it attracts some of the world's most discerning buyers and sellers of real estate," said Chris Pollinger, Senior Vice President of Sales, First Team Estates. "Our work internationally over the last two decades and our new affiliation with Christie's International Real Estate gives us a global network that often proves critical for buyers and sellers in what just a few years ago was a local real estate market."
Based upon ongoing sales figures, for luxury property above $2 million in Coastal California approximately 50% of the buyers are from countries outside the United States with a very high concentration of those coming from Asia. First Team Estates and it's agent network have over thirty years of success and trust built with business leaders across Asia providing the company with a proven ability to identify the largest pool of potential buyers for properties.
"It all comes down to service and listening to buyers and sellers," explained Chris Pollinger. "First Team Estates focuses on the needs of each buyer and seller, working extremely hard to utilize the unmatched resources of our $5.3 billion annual sales network and our exclusive international affiliations to unlock great opportunities in Newport Coast."
ABOUT FIRST TEAM ESTATES - CHRISTIE'S INTERNATIONAL REAL ESTATE
First Team Estates - Christie's International Real Estate specializes in selling Orange County's most unique and exclusive properties. As part of the luxury division of Southern California's most trusted real estate company, First Team Real Estate, First Team Estates has been recognized for its unparalleled level of service for estate buyers and international buyers in major media in Asia and the United States. In 2011, 2012, and 2013 First Team Estates - Christie's International Real Estate was recognized as part of the Best Real Estate Company by the annual Orange County Register survey of 100,000 Southern California households. We can be reached at (888) 236-1943.