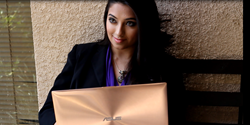 Traditional marketing rules can not be applied to social media, because social media is not a marketer's platform. It belongs to consumers."
Hunting Valley, Ohio (PRWEB) March 25, 2014
Fresh out of graduate school and unable to find a job, Shama Kabani decided to take matters into her own hands.
At the age of 23, she founded the Marketing Zen Group, a full service web marketing and digital PR firm based in Dallas. Since its start, Kabani has led the organization through an explosive expansion, averaging 400% growth annually. Now 28, the bestselling author, internationally acclaimed speaker, and trusted media expert is known as the "Zen Master of Marketing" by Entrepreneur Magazine.
Named one of the "Top 30 Under 30" Entrepreneurs in America by Inc. Magazine, Kabani will discuss business strategies and techniques for success in the digital age when she presents The Zen of Social Media Marketing on Thursday, April 10, at 7:30 p.m., at University School's Hunting Valley Campus, 2785 SOM Center Road, Hunting Valley (44022).
The lecture is free and open to the public. A book signing will follow the lecture. Please register online and obtain more information by visiting http://www.us.edu.
"A while back, I realized the main reason people struggle with social media marketing is because they are going against the natural order of things," Kabani said. "The traditional marketing rules cannot be applied to social media because social media is not a marketer's platform. It belongs to consumers."
The author of the bestselling book, The Zen of Social Media Marketing, Ms. Kabani has frequently appeared on Fox Business, CBS, and MSNBC, and has been featured in The New York Times, The Wall Street Journal, Business Week, and The Huffington Post. She is also a blogger for Forbes Magazine.
A graduate of the University of Texas at Austin with a Masters degree in Organizational Communication & Technology, Ms. Kabani works closely with the Young Entrepreneur Council in fostering youth entrepreneurship around the world. In 2011, she was the only woman delegate invited by the U.S. State Department to mentor tech entrepreneurs in Cairo as part of President Obama's initiative in the region.
In conjunction with her visit to University School on April 10, Ms. Kabani will discuss her personal story when she presents Pursuit, Passion, and Perils: The Story of One Young Entrepreneur to Cleveland-area middle school and high school students at University School's Shaker and Hunting Valley Campuses. She will address over 800 students from 12 schools over the course of the day.
Following Kabani's evening lecture at US, there will be a Celebration of Youth Entrepreneurship Fair featuring teenage entrepreneurs from University School's Entrepreneur Institute and from area organizations, including Junior Achievement, Girl Scouts, Lemonade Day NEO, Young Entrepreneur Market, and the Veale Youth Entrepreneurship Forum.
Ms. Kabani's lecture is presented by University School's Entrepreneur Institute as part of its "Celebration of Youth Entrepreneurship." The event is made possible with the generous support of The Burton D. Morgan Foundation, which is dedicated to strengthening the free enterprise system by investing in organizations and institutions that foster entrepreneurial spirit.