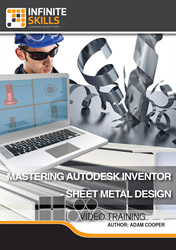 Learn Mastering Autodesk Inventor - Sheet Metal Design at your own pace
(PRWEB) March 17, 2014
Software training firm Infinite Skills Inc. this week introduced its "Mastering Autodesk Inventor - Sheet Metal Design Tutorial," a concise set of lessons targeting capabilities for sheet metal design in the popular CAD program designed for mechanical engineers.
Autodesk Inventor is a 3D mechanical computer aided design (CAD) program used to create, visualize, and simulate, mechanical products.
Inventor's vast toolset includes specialized features and commands for thin-walled design, allowing users to create and modify the flat patterns common to sheet metal designs.
Infinite Skills Mastering Autodesk Inventor - Sheet Metal Design Tutorial demonstrates how to use these specialized tools to create robust sheet metal designs, complete with modification such as chamfers, folds, and cutouts.
Mastering Autodesk Inventor - Sheet Metal Design Training Video
An Inventor user since 1999, course author Adam Cooper is a career mechanical engineer designing primarily plastic installations in the automotive industry. He is also an accomplished trainer and a regular speaker at Autodesk University. He is an Autodesk Certified Instructor in Inventor and several other Autodesk programs.
Cooper begins with an overview of working with sheet metal in Inventor, explaining sheet metal templates and styles, and helping students set up the course working files.
From there, he introduces sheet metal base features, explaining basics like the face, contour flange, contour roll, and lofted flange.
The course then moves into more advanced features such as secondary faces, flanges, folds, bends, hems, and relief types.
Next, Cooper explains how to use Inventor's sheet metal modification tools, allowing users to add detail with cuts, rips, folds, chamfers, and more.
The course then concludes with chapters demonstrating how to create flat patterns and, finally, how to document your sheet metal designs.
"Autodesk Inventor has a subset of tools designed for thin-walled design," Cooper explains. "These tools allow us the ability to create formed sheet metal products based on standard parametric rules that help us guide thickness, bend radiuses, and all the other elements that go into proper sheet metal parts."
"By the end of the course, you should be able to create some robust sheet metal designs."
Free demo videos and a full list of course contents can be found on the Mastering Autodesk Inventor - Sheet Metal Design training page of the Infinite Skills website:
http://www.infiniteskills.com/training/mastering-autodesk-inventor-sheet-metal-design.html
Infinite Skills offers its Mastering Autodesk Inventor - Sheet Metal Design Tutorial as a direct download from the company website at a retail price of $24.95. Though the compatibility of programs varies, all Infinite Skills titles and formats are compatible with both Mac and Windows operating systems, and shipping is available around the globe. Additionally, Infinite Skills tutorials are supported by project files which correspond to examples in the videos.
About Infinite Skills Inc.
A leader in the field of software training, Infinite Skills designs its courses on a task-oriented model, teaching complex skills by providing hands-on examples and guiding users as they carry out essential functions. Infinite Skills offers a wide range of software titles available as DVDs, digital downloads, and in iPad editions. Infinite Skills now offers a subscription service, providing access to all its training content for a monthly fee, keeping with company's aim of delivering professional training to customers anywhere they want to learn.