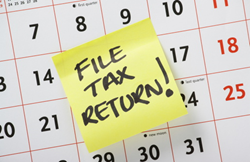 Indianapolis, IN (PRWEB) March 17, 2014
These Money Management columns are a joint effort of the American Institute of Certified Public Accountants (AICPA) and the Indiana CPA Society, as part of the profession's nationwide 360 Degrees of Financial Literacy program.
Below are columns for tax season:

Future Money Management columns will be distributed bimonthly and will cover a wide range of other financial-related topics of interest to the public.
###
About the Indiana CPA Society:
Currently, more than 7,000 CPAs in public practice, industry, government and education are members of the Indiana CPA Society. INCPAS serves the public interest as well as its members. Its members are required to abide by the CPA profession's code of conduct. INCPAS members also receive access to quality educational programs provided by the Society, resources that enable them to better perform their job functions, and peer networking for information sharing that broadens their skills and knowledge base. Indiana CPA Society members are the most highly qualified and competent CPAs in Indiana. Make sure your CPA is a member of the Indiana CPA Society.