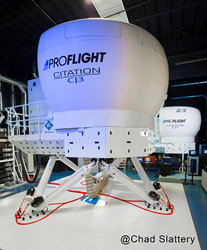 "Our revolutionary, interactive CitationJet Learning Management System is a game-changer in the Part 142 Training industry," said Caleb Taylor.
Carlsbad, CA (PRWEB) March 14, 2014
ProFlight, an innovative and esteemed pilot training company with more than 25 years of flight training experience, has won distance learning approval from the Federal Aviation Administration (FAA) for Cessna CitationJet Series aircraft. Thanks to this FAA approval, much of the aircraft systems ground school can now be completed remotely for CE-525 and CE-525S 61.58 currency students.
Founded in 1988, ProFlight has enjoyed a stellar reputation since the early 1990s for producing and delivering advanced and interactive aircraft systems courseware for their popular pilot training courses. In keeping with this strong tradition of innovative excellence, ProFlight's new CitationJet (CJ) web-based Learning Management System (LMS) is of the highest quality. It is also highly effective and efficient for today's busy flying professionals.
FAA approval for online distance learning represents a proud accomplishment for ProFlight and its founder Caleb Taylor, who believes this delivery method of subject matter and educational materials is the way of the future.
"Our revolutionary, interactive CitationJet Learning Management System is a game-changer in the Part 142 Training industry," said Taylor. "Remotely attending CJ Systems ground school provides a more meaningful and focused simulator training experience while onsite."
By using the web-based LMS, ProFlight clients can begin training whenever and wherever is convenient, including from the comfort of their own home. Once they've chosen to enroll via distance learning, clients will be given a username and password to access the online LMS portal.
With distance learning, no distance is too great, and no location is a barrier to attending and completing ground school. With no old-fashioned classroom hours to schedule around, there's more time for valuable training when a pilot is on-site – and no need for midnight simulator sessions. In some cases, LMS participants may even be required to spend less time at ProFlight's facilities.
"ProFlight offers an impressive training program," said corporate pilot Dave McNary. "Their comprehensive plan began weeks before I arrived. The LMS allowed me to begin learning the systems and abnormal procedures at my own pace and at the times of my choosing, since it's a web-based application. Unlike just reading about emergency procedures and trying to imagine where in the cockpit the switches are and how the systems respond, the online course has animation. I was actually able to throw the switches following the abnormal checklist to see the systems respond. It was fantastic."
More formal and classroom-based ground school learning options still remain available from ProFlight. An established leader in innovative and advanced pilot training, ProFlight has invested in cutting-edge technology, advanced interactive, computer-based learning to a new level and built a superb instructional team of high-time, active pilot professionals. As a result of this commitment to innovation and excellence, ProFlight has grown steadily each year, while maintaining exceptional customer satisfaction and meriting the approval of all leading aviation insurance underwriters.
# # #
ProFlight was founded in 1988 by professional pilot instructors who saw a need for thinking and soaring beyond traditional training. By harnessing emerging technology, 1:1 instruction and vibrant animation for real-world, model-specific training, ProFlight continues to educate and mold pilots in dynamic methods that go far beyond the static, standard learning models. ProFlight is based in sunny Carlsbad, California, just minutes from Palomar Airport. For more information, call Stuart Illian at 760.929.9627 or visit http://www.proflight.aero.