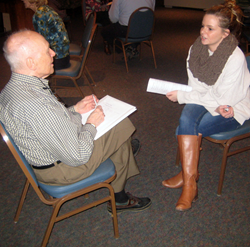 "Students too often get caught in the here and now. It is so good to have a perspective from another generation, to synthesize many perspectives for a well-rounded academic and social experience." - Anthony Schullo, NCC student
Chicago, IL (PRWEB) March 14, 2014
At a recent meeting at North Central College in Naperville, Illinois, college students and local area residents from Monarch Landing senior living community clearly benefited from contact with one another. The snowy, sub-zero weather was punishing, but the warmth among students and residents in the student center was palpable. With less than five feet but as many as five or more decades between them, the pairs took part in a "speed dating" exercise in which they met one-on-one for five to seven minutes to ask each other questions about themselves and chat freely. They then switched to different partners of the students' choosing.
"This has to be a win-win partnership," said Bob Rickert, resident and partnership project coordinator at Monarch Landing, a senior living community in Naperville, IL. Rickert is referring to the mentor program he and a North Central College student, Anthony Schullo, spearheaded nearly a year ago to bring students and residents together.
"There should be no script," Rickert told the group of over 30 students and seniors before the pairings began. "Let the conversation flow; this is not a career guidance discussion, but a chance to share life experiences." Some of the mentor/mentee partnerships were already established at previous meetings and are maintained through self-driven contact outside the program; others were brand new. The mentor program's first pair, resident Rita Hardin and history student Sydney Paquin, braved the harsh weather for the opportunity to reconnect with one another. "I tried to give Sydney an 'out' tonight," teased Hardin, "but she said she still wanted to meet with me." Paquin previously chose Hardin as her mentor because "she is so easy to talk to; we just clicked." Said Hardin, "This is good for both of us; it's fun and outside the box."
Rickert's vision to enrich the lives of North Central College students through learning opportunities, experiences and relationships with Monarch Landing residents took root in February 2013, when history professor Dr. Luke Franks was the first lecturer in Monarch Landing's North Central College Expert Speaker Series. Speaking on "Today's China and the East Asian Economic Miracle" to a large crowd of eager-to-learn residents, Franks returned to Monarch Landing a month later with NCC students who participated in an East Asian study abroad program. In mingling with the residents, the students discovered they greatly enjoyed the interaction, and 11 of them told Dr. Franks they would like to continue such intergenerational associations.
Driven primarily by Anthony Schullo, NCC's History Association president, the students embarked on a venture to add relationships with Monarch Landing residents to their range of learning opportunities. Along with his wife Mary Ann Rickert, Joan Leyden, Bob Schroeder and Duane Mevis (both North Central College alumni) and other residents, Rickert propelled Monarch Landing's participation in the mentor initiative. Today, approximately ten mentor/mentee matches are progressing, with a program goal of at least five more by the end of the year. "I'm excited to see this getting off the ground so well," said Dr. Franks. "It's one thing for students to learn about history from books, but quite another to hear it first-hand. There is great value in Monarch Landing residents connecting with our students, sharing their experiences, and knowing those experiences are useful." Schullo, a junior studying History, Gender and Sexuality Studies, couldn't agree more: "Students too often get caught in the here and now. It is so good to have a perspective from another generation, to synthesize many perspectives for a well-rounded academic and social experience. It's an amazing opportunity for us that these individuals at Monarch Landing have so much to give." Talk about a win-win situation.
The Monarch Landing-North Central College mentor program plans to expand learning opportunities to a teachers' panel, whereby residents who are former teachers will share useful tips that worked for them in the classroom with education students. Watch for further information regarding this and other developments in the ML-NCC partnership.
Monarch Landing is a continuing care retirement community located on a scenic campus in Naperville, Illinois-named "one of America's best places to live and retire" by Modern Maturity, and "the best city for early retirement" by Kiplinger. Monarch Landing currently offers independent living, promoting a vibrant life style for active seniors. Upon completion of The Springs at Monarch Landing which is currently under construction, the community will also offer assisted living memory support, rehabilitation and skilled nursing services, thus providing complete continuing care for seniors. Monarch Landing is owned by Senior Care Development and managed by Life Care Services. For additional information visit http://www.WelcomeToMonarchLanding.com or call 630-548-0400.