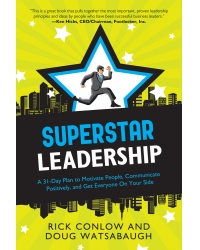 "If you want your team to be better, you have to be a better leader."
Minneapolis/St.Paul, MN (PRWEB) March 15, 2014
Rick Conlow and Doug Watsabaugh, co-founders of global management consulting firm WCW Partners, Inc., today announced the 2014 Global Leadership Practices Survey: How Do You Rate Your Boss? Management derailment studies show that 50% of managers fail today and that their leadership coaching skills are very poor. With a sluggish economy and poor management, employee disenchantment is at all time highs in companies. Poor employee morale costs companies billions annually.
Through the Global Leadership Practices Survey Rick and Doug will identify the actual positive behavior in leaders that create better employee attitudes and productivity. This survey is particularly focused on the supervisors, managers, coaches, trainers and team leaders in the "guts" of an organization. These are the leaders who have the biggest impact on employee performance. Collectively this group does more good or harm to the success of a company than any CEO. Typically, leadership surveys are all about top executives. This survey will determine, what do the best leaders do in these middle management roles that motivate and engage employees? The survey asks, how do you rate your boss? The respondent's to the survey have 13 questions to do that.
Rick and Doug recently published with Career Press, S uperstar Leadership: A 31 Day Plan to Motivate People, Communicate Positively, and Get Everyone On Your Side. In their book they demonstrate leadership effectiveness through a review of key research from a variety of sources. The WCW Global Leadership Practices Survey pulls all this research into one focused rating of bosses at all levels in the organization. The survey is anonymous and all respondents have an option to review the results.
About WCW Partners Inc.
Co-Founders Rick Conlow/CEO and Doug Watsabaugh/COO of WCW Partners have more than 50 years of combined business, training and leadership experience. Their company partners with organizations to increase sales and customer retention, while simultaneously improving employee loyalty, engagement, and productivity. Clients include 3M, Meijer, Rite Aid, Canadian Linen, AmeriPride, Honeywell, Entergy, Nash Finch, Northern Power, Pepsi, Widex, Target and others. For more information visit the company website at http://www.wcwpartners.com.