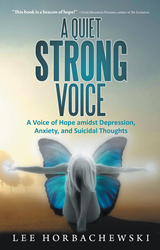 These medical books only added to my feeling of helplessness and overwhelm, I longed for something more relatable.
Calgary, Alberta (PRWEB) March 15, 2014
According to Healthline, over 80% of people expressing symptoms of clinical depression do not receive specific treatment for their illness, which is a major cause for the ever-increasing suicide rates in the US. Unfortunately often times even those who do are left to rely on overly-technical medical literature that can be confusing or overwhelming.
Author Lee Horbachewski has battled with depression for a long time now, and was even admitted to a psychiatric ward after making attempts to end her life. Now she has turned her experiences into a straightforward guide book, "A Quiet Strong Voice," to hopefully help others battle their own mental demons.
"When I was admitted all the literature they provided me was thick with small print and written by psychiatrists or other people with Ph.D.s," Horbachewski said. "These books simply added to my feeling of helplessness and overwhelm, I longed for something relatable."
While "A Quiet Strong Voice" does recount Horbachewski's personal struggle with depression and suicidal thoughts, she wanted the book to provide more than just a personal catharsis. She provides specific tips, tools and resources along with journal and activity log sections to help readers overcome their own depression or anxiety.
"My struggles with depression and anxiety led me make to multiple suicide attempts," Horbachewski said. "I was lost, but I am hoping that my book can help prevent others from feeling that lost perspective and give them the tools they need to help themselves and those around them."
"A Quiet Strong Voice" is designed to help depressed and anxious individuals feel heard, loved and accepted – beginning with the self.
"A Quiet Strong Voice"
By: Lee Horbachewski
SC-ISBN: 978-1-4525-8862-9
SC-Retail price: $12.99
Available at barnesandnoble.com and amazon.com.
About the author
Lee Horbachewski is a certified life coach whose personal battle with depression and anxiety came to a head in 2004 when she made three attempts to end her life. She now tours as a voice of advocacy and hope to spread her authentic message to those in similar situations seeking help. She is currently enjoying life with her two daughters and husband in Calgary.
**For Immediate Release**
Editors: For review copies or interview requests, contact:
Spencer Hotz | 317.602.7137| shotz(at)bohlsengroup(dot)com
(When requesting a review copy, please provide street address.)