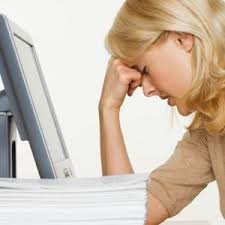 Mechanicsburg, PA (PRWEB) March 14, 2014
For many, a lot of time is spent in front of a computer or mobile device for work related purposes. Businesses and employers are encouraging more use of this technology and as a result, the Pennsylvania Association for the Blind has seen an increase in eye strain, or Asthenopia.
Asthenopia is a very common condition that occurs when eyes are over used or tired. Smartphones, laptops, and tablets are becoming more common in the workplace and employees are spending a lot more time squinting, reading and staring intently at very small text and messages. Additionally, our display screens are illuminating bright lights. The contrast from this, along with lighting around you, causes images on your computer or mobile device to fade and your eyes have to work harder to read your work. Eye strain can cause fatigue, pain, headaches and weaken or impair vision.
As part of March's Workplace Eye Wellness Month, the Pennsylvania Association for the Blind encourages employers and employees to make a few simple changes to prevent this issue:
1. Don't forget to blink. This is one of the simplest things that can be done to prevent eyestrain. During sustained periods of focus on an object such as a computer screen, people forget to blink, limiting tear production. The reduced moisture can cause initial irritation which can lead to other problems.
2. Place the computer or mobile device screen 20 to 26 inches away from your eyes and a little bit below eye level.
3. Use a document holder placed next to the computer screen. It should be close enough so not to have to swing a head back and forth or constantly change eye focus.
4. Is there a window behind a computer screen? Start by closing the blinds or arrange the environment so any direct sunlight is either filtered or is not directly aimed at the monitor. Change the office lighting to lower glare and harsh reflections. Glare filters over your computer screen can also help.
5. Make sure the monitor and workstation is correctly set up. Use an adjustable chair and choose screens that can tilt and swivel. An adjustable keyboard can also be helpful.
6. Try putting down an electronic devices for an entire day each week. If a day is too long, employ the 20-20-20 rule. After each 20 minutes focused on a screen of any size, glance up and look at a point at least 20 feet away, for 20 seconds. This allows eyes to blink and gives eyes a rest.
7. Get adequate sleep. A solid eight hours of sleep will improve eye health, as well as overall health.
Eyestrain is a serious issue that can compromise vision, eye health, and work productivity. The National Institute for Occupational Safety and Health (NIOSH) believes eye strain may have already surpassed carpel tunnel syndrome as the top computer-related workplace physical complaint. Taking advantage of some of these easy steps will make for a healthier, happier workplace. Additionally, make sure to get a yearly comprehensive eye exam and talk to an eye examiner about the job and the amount of time spent in front of a computer.
Contact: Katie Schock - PA Assn. f/t Blind Phone: 717-766-2020 Email: Katie.schock(at)pablind(dot)org
Beaver Co. Assn. f/t Blind, Berks Co. Assn. f/t Blind, Blair/Clearfield Assn. f/t Blind, Blind & Vision Rehabilitation Services of Pittsburgh, Bucks Co. Assn. f/t Blind, Butler Co. Assn. f/t Blind, Cambria Co. Assn. f/t Blind & Handicapped, Center f/t Blind & Visually Impaired, Central Susquehanna Sight Services, Center for Vision Loss, Fayette Co. Assn. f/t Blind, ForSight Vision, Greater Wilkes-Barre Assn. f/t Blind, Community Services for Sight., Indiana Co. Blind Assn., Keystone Blind Assn., Lackawanna Branch –PAB, Montgomery Co. Assn. f/t Blind, North Central Sight Services, Nu Visions Center, South Central Blind Assn., VisionCORPS, Vision Resources of Central PA, Venango Co. Assn. f/t Blind, The Sight Center of Northwest PA, Washington-Greene Assn. f/t Blind, Westmoreland Co. Blind Assn.