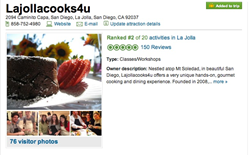 [This was] an absolutely fabulous experience. Jodi was extremely hospitable and catered to our food preferences on a whim. And this is a must as a team building event!
San Diego, CA (PRWEB) March 19, 2014
Lajollacooks4u's cooking classes and collaborative team building events have secured a record number of over 150 "Five Star" ratings on TripAdvisor. Chef Jodi is absolutely thrilled, "we are so proud of our accomplishment! Customer service and providing high quality products are what Lajollacooks4u is all about. The five-star ratings reinforce the hard work that we continually put into each of our cooking classes."
TripAdvisor, one of the top traveling and booking sites in the world and winner of the 2014 Traveler's Choice award, allows guests to rate and review activities and attractions while traveling. Guests of Lajollacooks4u have been consistently utilizing the rating and reviewing system of TripAdvisor to boast about their fabulous experience at Lajollacooks4u.
Every guest who has rated Lajollacooks4u has given the activity five stars and an excellent performance review, making it one of the few attractions to receive over 150 five-star ratings. Lajollacooks4u is honored to have achieved this rare and prestigious accomplishment, since offering only high quality products and services comes naturally to Chef Jodi at Lajollacooks4u.
LoAn Ho, who was a guest of Chef Jodi in March, shared with Chef Jodi: "This was an absolutely fabulous experience. Jodi was extremely hospitable and catered to our food preferences on a whim. This is a must as a team building event!"
Stepping out of the kitchen and into the online world, Lajollacooks4u has updated and redesigned their web site. Hot and fresh out of the kitchen, the website renovations are live! The website features a fresh layout and fabulous design, featuring a bold banner to the company's blog, consistently updated TripAdvisor reviews, and links to recent news and social media. This state-of-the-art design is simple and easy to navigate for those interested in the unique cooking classes and team building events offered only at Lajollacooks4u.
Whether it comes to working in the kitchen or building their online profile, Lajollacooks4u has been growing as a fabulous activity. Lajollacooks4u specializes in unique team building events, encouraging corporations to establish unity and teamwork within their teams by participating in friendly, yet competitive, and collaborative cooking challenges. Lajollacooks4u also welcomes those looking to engage in private, hands-on cooking and dining experiences, complete with wine pairings for each course.
About Lajollacooks4u
Lajollacooks4u, founded in 2008, provides a unique and intimate activity for couples, corporate team building, and any foodie looking for a unique cooking and culinary experience in an ideal setting overlooking the Pacific Ocean. Based in La Jolla, a suburb of San Diego, CA, Lajollacooks4u has enjoyed record growth since its inception and is ranked as a top attraction in La Jolla on the world's largest travel review site, Trip Advisor. For more information, contact Jodi Abel at jod(at)lajollacooks4u(dot)com or phone 1-858-752-4980.
Lajollacooks4u customizes all events to meet the desires and needs of the organization. For reservations, contact Jodi Abel, or visit Lajollacooks4u's website at http://www.lajollacooks4u.com