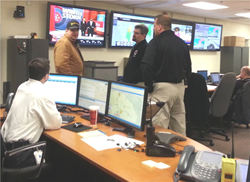 Buffalo, NY (PRWEB) March 15, 2014
Frederick County, MD put their DLAN system to the test when substantial snowstorms hit the area this season.
On February 4th the snow emergency plan for Frederick County was put into place. DLAN was used to ensure complete situational awareness including monitoring weather forecasts and road conditions. On February 9th the snow emergency plan was reactivated for the county and again the County's web based management system was utilized to effectively handle the situation. February 11th – 13th Winter Storm Pax brought the worse storm of the season. According to NWS 20.5" accumulated near Frederick. Despite the unusual weather, Frederick County was prepared to manage the situation with the wide variety of tools available through their DLAN software.
The Director of the Department of Emergency Preparedness for the County, Seamus Mooney, notes, "We used DLAN to coordinate resource requests, track calls from citizens and overall situational awareness."
In the County's EOC, large screens displayed DLAN's Streaming Video and GIS modules, allowing the staff to easily monitor changing roadway conditions and view local weather radar maps. These visual representations increased situational awareness within the EOC, while more data driven modules like the Ticket Manager helped staff keep on top of tasks, such as removing fallen trees and downed wires.
DisasterLAN is a web-based incident management system designed for use in emergency operations centers to manage both planned events and disasters using ICS and NIMS standards.
Buffalo Computer Graphics (BCG) is a global provider of incident management, GIS, and mass notification software as well as maritime training simulation systems, and custom hardware and software engineering services. The ability to provide COTS and custom-tailored solutions that integrate with client's existing infrastructure is what sets BCG apart from its competitors.