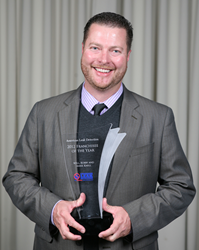 I take great pride in helping people in what can be a very unsettling, stressful situation.
Dallas, Texas (PRWEB) March 13, 2014
American Leak Detection of Dallas' owner and operator, Will Knell, is a dedicated community member when it comes to managing water loss. Previously owned by his father since 1987, Will's focus is accentuating the need for water saving technologies. Change has been essential to their success, as Knell puts it, "We constantly come up with ways to do what we do and how we do it so we can stand out." Knell's approach to the industry obviously works; since taking over the American Leak Detection franchise, he has earned his office the title of Franchisee of the Year at the November, 2013 American Leak Detection convention held in Palm Springs, Calif.
Originally from South Africa, the Knell family emigrated to Texas in the mid-eighties where Will's father, Bobby, started his franchise in the Dallas area. Enamored with the idea of owning his own business, Will underwent rigorous training after college to become a Leak Specialist with then owner and founder of American Leak Detection, Dick Rennick. Will still attests today, "They are truly amazing people and are the reason for the success of myself and so many other franchisees today." He couldn't be happier with the network of nationwide American Leak Detection franchisees either, "The colleagues I have in my fellow franchisees are the most diverse and intelligent group of people one could ever hope to be around. Every time we get together we have the best time and learn so much from each others' experiences. It never gets old, even after fifteen years."
American Leak Detection of Dallas' team operates twelve trucks; they plan to add a thirteenth truck by May and a fourteenth truck by the end of 2014 to cover the rapidly growing demand in their service area. The team provides a variety of leak detection services, including plumbing, pool and slab leak detection, infrared leak detection, as well as service line and sewer inspections. The technicians utilize proprietary equipment and cutting-edge technology to find leaks with minimal damage to a customer's property. They also have referral relationships with plumbers, pool service professionals, real estate agents, real estate inspectors, insurance adjusters and water system managers.
Knell has the forthright attitude of a savvy business owner and feels content with the overall mission his team strives to bring to customers. "I take great pride in helping people in what can be a very unsettling, stressful situation," Will says, "We create relationships with our customers and become someone they can trust to look out for their best interests as they move through the process of finding and fixing leaks." Knell's vision for his American Leak Detection franchise looks bright as they aspire to open multiple offices in the Dallas area to meet the growing community's needs.
"American Leak Detection of Dallas is a leader in our franchise system because of their hard work and individualized service," says Patrick DeSouza, President and CEO of American Leak Detection. "Will Knell's plans to expand underscore the growing importance of water conservation in the arid Southwest. The Dallas office saves homeowners water and money, but they are also proactively reaching out to water managers and municipalities to save our taxpaying dollars as well. Future need to conserve Earth's most vital natural resources is only going to escalate."
American Leak Detection of Dallas provides leak detection service for homes, businesses and municipalities. The office serves an area of roughly three million customers in the communities of Dallas, Plano, Garland, Irving and the surrounding community.
For more information or to schedule an appointment with a leak detection specialist, call 972-713-8691. For more information about American Leak Detection, visit http://www.americanleakdetection.com.
# # #
American Leak Detection was founded in 1974 and is headquartered in Palm Springs, Calif. It is the world leader in accurate, non-destructive detection of hidden water, sewer and gas leaks in residential, commercial and municipal buildings. With 125 independently owned and operated franchises in four countries, technicians have detected more than 6 million leaks, saving customers millions of dollars in costly repairs. The corporation is dedicated to water conservation, resource protection and providing eco-friendly services. For more information, visit http://www.americanleakdetection.com.