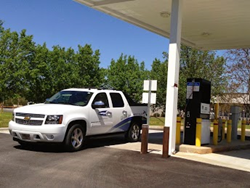 The future energy needs of the state also present opportunities to diversify the state's energy supply and provide new opportunities for Alabama-based clean energy technologies.
Albertville, AL (PRWEB) March 27, 2014
The CNG industry welcomes the passage of legislation in the Alabama House in Montgomery, AL alleviating until October 1, 2016 the expense of the State Decal Program to NGV's. Under House Bill HB552, state Representatives unanimously passed the bill, which stressed the following findings and statements: "(1)The reduction of the dependence on foreign oil is necessary to reserve and protect our national security.''(2) Reliable and affordable energy is of great importance to all sectors of Alabama's economy....(5) The use of existing technology and development of new technologies including compressed and liquified natural gas should be encouraged as a way of producing energy with reduced emissions."
Dan Johnson, Corridor Clean Fuels CEO said, "I am truly excited that our State is taking a positive position in promoting U.S. energy independence with the cleaner, less expensive and domestic usage of natural gas in the transportation sector." Alabama produces natural gas from the Black Warrior shale and other production zones. "Using cleaner burning resources produced in this State to lower transportation costs and attract new businesses to this state makes so much sense", continued Johnson.
Corridor Clean Fuels, LLC is building the largest CNG station in Alabama, in Dothan opening this summer promoting it's brand of CNG, Cynergy Fuels.