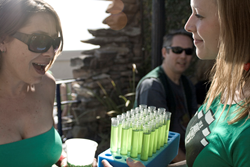 Miami, Florida (PRWEB) March 13, 2014
After 3 years of throwing the biggest St Paddy's Day outdoor event in Miami, Mary Brickell Village continues its tradition of delivering revelers the definitive 2014 St Paddy's Day celebration powered by Zevents.
Planning for the outdoor party at Fado starts months in advance and every aspect of the days leading up to March 16th and 17th is focused on offering an over-the top- yet authentic- Irish experience with something for everyone. This year the outdoor event begins on March 16 and continues until March 17 featuring a full line up of European sports, including 6 Nations Rugby, English Premier League, Irish Dancers, banging DJ's, food and drinks stations, including the a Tullamore Dew signature cocktail, called The Paddy's Punch, as well as a signature serve "Flexible Flask"! The flask will be prefilled with the cocktail and set up at stations or hand sold by wait staff throughout the day. "Party like a Paddy" never sounded more right!
Since 2010, Fadó has offered Miami the best St Patrick's Day party in the city. Fadó Irish Pub powered by Zevents in Mary Brickell Village has been proclaimed as the most anticipated St. Patricks Day Celebration, 2014 will not disappoint with not one but two celebrations.
Kicking off the celebration with a "practice run" St Practice Day Festival at Fado Irish Pub, will be taking place Sunday, March 16, 2:00 p.m. until 11:00 p.m - guest will be granted FREE ADMISSION. We'll have 2 banging DJ stages, full bars, multiple beer gardens and the best crowd in Miami on the plaza at Mary Brickell Village.
Guest can also enjoy a VIP ticket "Sunday Funday VIP Party Pass" from 2:00 p.m. until 6:00 p.m. Reserve a VIP wristband in advance and from 2pm-6pm you'll get $2 Bud, Bud light, Naked Turtle Rum, Bushmill's Irish Whiskey and Smirnoff. Tickets are $30 on the door, but buy now and use Promo Code: "PracticeDay" and pay just $15.
After a fun filled day of practicing it's only fair we start your day with breakfast to regenerate for St Patricks Day on Monday, March 17. Guest will enjoy free admission, Doors open at 7:00 a.m. for "Kegs and Eggs" which includes a $10 breakfast buffet and a pint until 10:00 a.m. Full menu available after 10am. Then, get ready for an Irish party Miami style. Starting at 2:00 p.m., two massive DJ stages in Mary Brickell Village's front and back courtyards, multiple beer gardens and full bars, Irish dancers and Brickell's party people celebrating St. Patrick's Day 2014 in Miami with the best party in brickell.
(Must be 21+ only after noon)
Purchase tickets:
Facebook page or by following @fadomiami on Twitter and following the hashtag #stpatricksday2014
About Fadó Irish Pub
Fadó (pronounced fuh-doe) Irish Pub was the first Irish pub to be designed and constructed in Ireland and shipped and installed in Miami in Mary Brickell Villiage in 2010. Fadó is distinguished by its genuine Irish hospitality, quality of its pints and craic (pronounced 'crack', a uniquely Irish form of fun). Fadó has been voted 'Best Of' by a number of local and national publications, including "Top 10 Soccer bars in the US", by GQ Magazine. Fadó is an official US Soccer bar and an official supporter's bar of Southern Legion of the newest Miami MLS expansion team. Get more information by visiting the pub's website page, Facebook page or by following @fadomiami on Twitter and following the hashtag #stpatricksday2014
About Zayas Marketing Group
Zayas Marketing Group is a full-service marketing, advertising, social media and events company, in the heart of Miami. We specialize in creating innovative ideas and evolving them into proven results for our clients. Creativity is a valuable resource, expressed by those with open minds and dynamic visions. Zayas Marketing Group cultivates that resource, allowing us to communicate in new and innovative ways and launching our clients to the next level of success.