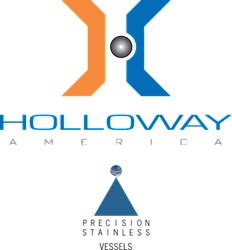 We've always placed a high priority on fabricating solutions that equip biopharm professionals to process potentially life-saving drugs more efficiently.
Springfield, Mo. (PRWEB) March 14, 2014
HOLLOWAY AMERICA recently announced it will exhibit at INTERPHEX 2014 in New York from Tuesday, March 18 – Thursday, March 20. As a leader in the pressure vessel fabrication and remediation industry, HOLLOWAY AMERICA is a staple at the annual biopharmaceutical expo. This year, several company officers and directors will attend the exposition, including HOLLOWAY President Dave Simpson. "We're thrilled to have so many officers available to attend INTERPHEX this year," said Simpson. He added, "No other event offers us the opportunity to visit with thousands of biopharm professionals. We've always placed a high priority on fabricating solutions that equip them to process potentially life-saving drugs more efficiently."
Simpson and his fellow HOLLOWAY representatives will be available to discuss the company's pressure tanks and parts, including original Precision Stainless, Inc. pressure vessel parts, throughout the three-day event at the Javits Center in New York. INTERPHEX 2014 will feature the world's largest hands-on showroom of manufacturing solutions for the biopharmaceutical industry, and attendees can access the exhibit hall from 10am - 5pm on Tuesday and Wednesday as well as from 10am - 3pm on Thursday.
Located at Booth 3729 in the Manufacturing and Processing section, just inside the Entrance to 3A near the Food Court, HOLLOWAY will showcase its patent-pending Seal Break Pliers—first introduced at INTERPHEX last year. The Seal Break Pliers are custom designed to break loose even the most stubborn gasket seals on clamp-type connections without risking process contamination or damage to the equipment itself. The company will also demonstrate key features of its custom tanks and pressure vessels using a specially fabricated show tank. The tank was designed complete with an electropolished interior, a jacketed exterior with heat-transfer system, specialty nozzles and HOLLOWAY's own H-Series Manway Cover, considered by many to be the standard in the industry.
HOLLOWAY Director of Marketing Randy Colwell said he and his colleagues are looking forward to discussing the benefits a finely crafted pressure vessel can provide INTERPHEX attendees: "It's safe to say that every year at INTERPHEX, we make mutually beneficial connections with processing professionals. These connections generally result from discussing the details of the person's specific processes and needs, followed by a hands-on demonstration of our show tank. For example, when we demonstrate how effectively our dimpled jacket heat transfer surface increases allowable working pressure in a vessel, it becomes pretty clear that HOLLOWAY can help them streamline processes and increase production."
Numerous other company officers will join Colwell and Simpson at INTERPHEX 2014, leaving the group especially well prepared to field questions regarding everything from initial project bids to engineering and fabrication details to YOURSITE™ Field Services for preventive maintenance and vessel remediation. Other HOLLOWAY America personnel slated to attend the expo include Director of Engineering Evelyn Gayer, Director of Sales Alan Lea, Vice President of Field Services David Lipsky, Sales Engineer Steve Lamb and Jerry Pollock of The Pollock Company. Addressing the benefits of bringing so many experts on the fabrication of biopharmaceutical pressure vessels and equipment to the event, Simpson said, "With over 12,000 industry professionals planning to attend INTERPHEX, we want to be certain HOLLOWAY AMERICA is prepared to provide visitors to our booth the same level of attentive, knowledgeable service we provide our long-standing clients."
For more information on the company's custom fabrication of tanks, pressure vessels and equipment, or about INTERPHEX 2014, contact HOLLOWAY AMERICA at 417.863.0077 or by email at info(at)HollowayAmerica(dot)com.