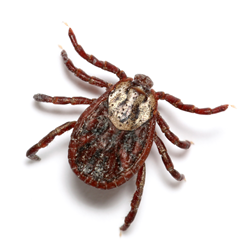 'Frigid temperatures are not going to reduce the risk of tick encounters much,' says Dr. Thomas Mather, Director of TickEncounter Resource Center.
Greensboro, NC and Seattle, WA (PRWEB) March 14, 2014
Have you been wondering (or hoping) that these brutal polar vortex weather episodes sweeping the nation are freezing off ticks? Tick-borne disease expert, Dr. Thomas Mather, the Director of the University of Rhode Island's Center for Vector-Borne Disease and TickEncounter Resource Center was asked this very question. He and his team recently conducted a series of tests to determine if the dreaded ticks are dead or alive.
Here is a recap video showing the results: http://youtu.be/c0PH4uoqytM.
"Recently, when we put some adult female deer ticks in our own polar vortex (aka, the freezer), ticks were killed in 24 hours. The temperature was -2°F. It's certainly been colder than that in Green Bay, Pittsburg and Burlington. Being attacked by fewer ticks come springtime would be some kind of payback for the extreme heating bills of this winter," says Mather.
Outside in nature, however, Mather and his team had different results. The ticks are on the ground, under leaves, snow and other debris. Over evolutionary time, ticks probably have seen their share of frigid polar vortex conditions and somehow survived them. So, when Dr. Mather took more ticks outside to test what would happen, (spoiler alert, watch the video and get prepared to be shocked) the result was not pleasant. In a nutshell - ticks are cold hardy.
Bottom line - frigid temperatures are not going to reduce the risk of tick encounters much at all. So it is important for anyone planning to spend time in the outdoors in the coming months to start making plans on how to stay tick safe when enjoying time outdoors.
Insect Shield Tick Repellent Clothing
http://www.insectshield.com/basics
Dr. Thomas Mather and his team have received wide recognition and attracted more than $13 million in funding from many organizations including the National Centers for Disease Control, the Environmental Protection Agency, and the National Institutes of Health. The Tick Encounter Resource Center promotes tick-bite protection and tick-borne disease prevention by engaging, educating, and empowering people to take action. More information can be found via http://www.tickencounter.org.
About Insect Shield® Technology:
Repellent Gear are revolutionary products designed to provide long-lasting, effective and convenient personal insect protection. The durable protection provided by Insect Shield apparel and gear is the result of years of research and testing. In July 2003, Insect Shield Repellent Apparel was registered by the United States Environmental Protection Agency. Insect Shield Technology is utilized by leading lifestyle brands, work wear distributors and International relief organizations across the globe to provide effective protection against insects and the diseases they can carry. Insect Shield is an approved vendor of the US Army and US Marine Corps.
For more information:
http://www.insectshield.com
http://www.facebook.com/insectshield
http://www.pinterest.com/insectshield
@insect_shield
Polar Vorticks interview with Dr. Thomas Mather conducted by Robbin Block /Block Beta Marketing
The individuals who provided these testimonials do not have any financial relationship with Insect Shield.