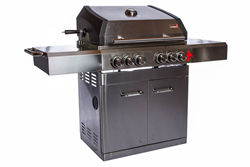 West Caldwell, NJ (PRWEB) March 18, 2014
Constructed of only the highest-grade stainless steel components, all Swiss Grill units boast a sleek European design that is guaranteed to be weather resistant, anti-corrosive, and built to last. All Swiss Grill units feature an upgraded side burner, called the "Grizzler", that can be used as a high-powered searing device as well as a regular side burner, depending on which level it is manually set to. Also unique to the Swiss Grill line is a signature red bottle opener built in to the front of the grill, a smart and convenient accessory to any outdoor gathering.
The Swiss Grill line includes four different series of grills, each with their own special features suited to fit a range of needs and existing outdoor designs. The Icon Series freestanding grill is Swiss Grill's classic unit, featuring all the innovative grilling technology the brand was founded on. The Zurich Series freestanding grills come in a wide variety of different sizes, featuring a range of storage, prep, and grill space. The Arosa Series freestanding grills feature a modern, cutting-edge design that redefines what it means to fuse form and function into one unit, and the Built-In Series grill heads install seamlessly into any existing outdoor counter.
This selection of Swiss Grill barbeque units and matching grill covers are now available for purchase at TotalHomeSupply.com.
About Total Home Supply:
Total Home Supply is a leading online retailer of air conditioners, heaters, appliances, and more, selling these products through their website at http://www.totalhomesupply.com. They offer products for both home and businesses and deliver industry leading service.