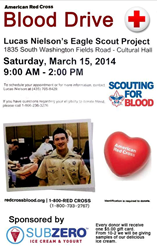 St. George, UT (PRWEB) March 14, 2014
Sub Zero Ice Cream & Yogurt in Southern Utah is partnering with local Boy Scout, Lucas Nielson to sponsor a local American Red Cross blood drive. Lucas is planning and executing the blood drive on Saturday, March 15 from 10 a.m. to 2 p.m. in order to earn his Eagle Scout Award.
Shane and Virginia Smith, storeowners in St. George and Cedar City, are particularly excited about this local event. Giving back to the community is a major part of the Sub Zero business motto and the Smith's embrace it fully.
"We love sponsoring our local community and groups, especially if they include the youth," said Virginia Smith. "We do everything in our power to play an active role to impact our area for the better. Some of our favorite sponsorships include the SUU Thunderkids program, our weekly youth group discount on Tuesdays and Wednesdays and local public school fundraisers."
The Eagle Scout blood drive for Lucas will be the final step in his scouting process before he can achieve this high award. To support him and help promote the event, the Smiths will donate a $5 gift card to everyone who donates blood. The gift card is redeemable at either the St. George or Cedar City Sub Zero locations.
"The Boy Scout program is such a positive experience for many young men in our community and we are proud to support them," said Shane Smith.
The blood drive will take place at 1835 S. Washington Fields Road, St. George, Utah. To schedule an appointment or to find more information, contact Lucas Nielson at 435-705-3276. If you have questions regarding your eligibility to donate blood, call American Red Cross at 1-866-3276.
Sub Zero also caters virtually any event and presents in science classes. To learn more about Sub Zero in Southern Utah, call 1-888-FOR-SUB0.