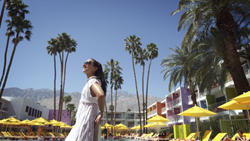 'Visitors from the colder climates are discovering Palm Springs is just the escape they are looking for,' said Tim Ellis, General Manager, Palm Mountain Resort & Spa
Greater Palm Springs, CA (PRWEB) March 15, 2014
Extreme winter weather may be creating economic hardships in many parts of the country, but the Arctic cold has served to boost the economy in the resort cities of Greater Palm Springs. While parts of the US are experiencing frigid temperatures and record snowfalls that have negatively impacted retail sales, manufacturing, construction and hiring, the desert cities of Greater Palm Springs have seen a record number of visitors filling hotel rooms, golf courses and swimming pools this winter.
"Visitors from the colder climates are discovering Palm Springs is just the escape they are looking for," said Tim Ellis, General Manager, Palm Mountain Resort & Spa. "This year we are seeing record numbers in hotel occupancy."
Greater Palm Springs is the ideal locale for travelers considering a vacation in the heart of winter. Between January and March, area temperatures range from approximately 71 degrees Fahrenheit during the day to 45 degrees at night. Visitors find themselves playing golf or tennis during the day in short sleeves, and only needing a sweater or light jacket if they're out after dark dining alfresco.
"Visitors can fill their days with incredible shopping, spa-going, outdoor adventure, golf and tennis, as well as unforgettable attractions, entertainment and arts and culture—all under seemingly endless sunny skies," said Scott White, President/CEO of Greater Palm Springs Convention & Visitors Bureau. "There are so many things to do in Greater Palm Springs that you need to experience it to believe it."
The area is easily accessible to cold-weather visitors with convenient, direct flights to Palm Springs International Airport (PSP) from major cities throughout the US and Canada. PSP has 21 non-stop routes including Chicago-O'Hare, Minneapolis-St. Paul, Atlanta, New York, Vancouver, Calgary, Toronto, Winnipeg and Edmonton.
"After setting all-time passenger records in 2012 and again in 2013, Palm Springs International continued on a strong pace by, yet again, establishing new records in the first two months of 2014," said Mark Kiehl, Deputy Director of Palm Springs International Airport. "Through February, total traveler volume is up over 7% above last year, and airline capacity growth should continue through our peak months. With strong demand for travel to and from the Greater Palm Springs market, these numbers are very encouraging for the rest of 2014 and for the future of air travel at PSP."
Kiehl also noted that, "In addition to normal seasonal activity, this year's visitors have been taking advantage of additional flights to help escape the frigid winter weather. March will be the highest in capacity in the history of the airport."
So while the rest of the country is frozen, or just starting to thaw out, visitors in Greater Palm Springs are golfing, hiking or simply sunning poolside, most likely with an icy cocktail in hand.
Greater Palm Springs is Southern California's premier resort and golf destination. Discover a place of many experiences and surprises in nine distinctive cities: Palm Springs, Desert Hot Springs, Cathedral City, Rancho Mirage, Palm Desert, Indian Wells, La Quinta, Indio and Coachella. As a respite for mind, body and spirit, Greater Palm Springs is ready to provide you with an unparalleled sense of escape, adventure, recreation, relaxation and your own unique way to play--anytime of the year. Bring the family, a special person or come alone. Find your Oasis. http://www.visitgreaterpalmsprings.com